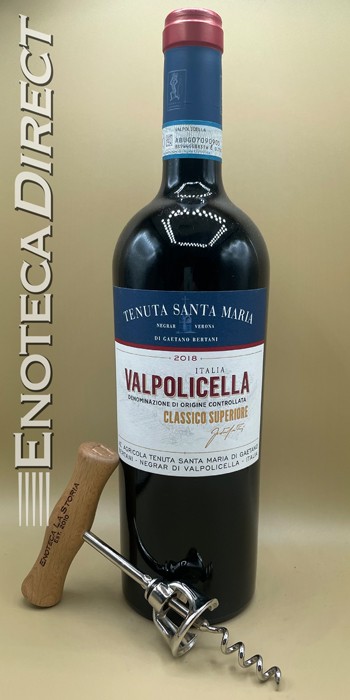 2018 Tenuta Santa Maria Valpolicella Classico Superiore
Veneto, Italy
A classic wine from one of the founding families of the region! 75% Corvina, 15% Corvinone and 10% Rondinella from the Bertani family's estate at Villa Mosconi, in Arbizzano di Negrar. Grapes are harvested in late September, crushed, cold-pressed and fermented in stainless steel for 25-30 days with daily punchdowns. WIne is then aged in casks ranging in size from 8 to 190 hectoliters for at least 14 months in traditional large oak barrels.
Tasting Notes: Classic red forest fruits and silky tannins. On the nose, it has soft, ripe red fruits, while the well-balanced palate displays ripe plum and pomegranate and a hint of spice. Stunning juicy core, round tannins and an elegant finish.
Winery Notes: Gaetano Bertani, great-grandson of founding brother Gaetano, and his sons, Giovanni and Guglielmo, maintain the family tradition and philosophy. Now in its sixth generation, the Bertani enterprise continues in the tradition of one of the oldest winemaking families in Italy, with a firmly-established history of excellence and the expertise born of a tireless endeavor to blend passion and skill with the power of the past.