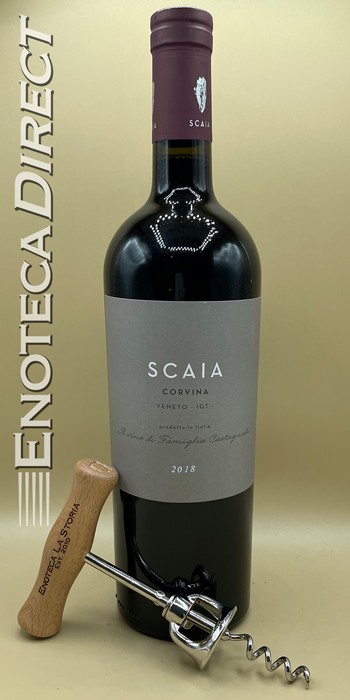 2018 Tenuta Sant'Antonio Scaia Corvina Rosso
Veneto, Italy
100% Corvina. Light maceration for 24 hours. Fermented and aged in temperatire-controlled stainless steel. Bâtonnage once a week until bottling.
Tasting Notes: Ruby red with purple reflections. Floral aroma of red roses and pansies, fruity aroma of cherries, sour cherries, plums, greengages, woodland berries such as blackberries, redcurrants and blackcurrants, raspberries. Well balanced, tangy and fresh. Intense and with a good body despite its young lightness. Ideal pairings include first courses and risottos (even traditional Veneto cuisine such as flour dumplings with mountain cheeses, pasta with beans, risotto with sausage), red meats, roasts, mixed boiled meats of chicken, beef, tongue, cotechino, white meats and poultry in general, toasted polenta .
Winery Notes: In the 1980s, four brothers—Armando, Tiziano, Paolo, and Massimo Castagnedi—began making their first moves toward opening their own winery. They had inherited 50 acres of vineyards in the eastern section of Valpolicella from their father, and in 1989 they purchased 75 more acres in the same general are a, releasing their first vintage under the Tenuta Sant'Antonio label in 1995. In 2006 they began a new project under the Scaia label to further explore the potential of the traditional varieties they were growing. In naming this new brand Scaia, they referenced the type of soil they had in their vineyards—a chalky, granular soil that broke apart easily. Scaia is a word in Veronese dialect for crumbs, like little pieces of Parmigiano Reggiano cheese that fall off a large block, which the soil resembles. Scaia soil imparts a higher acidity and bolder fruit character to the wines.