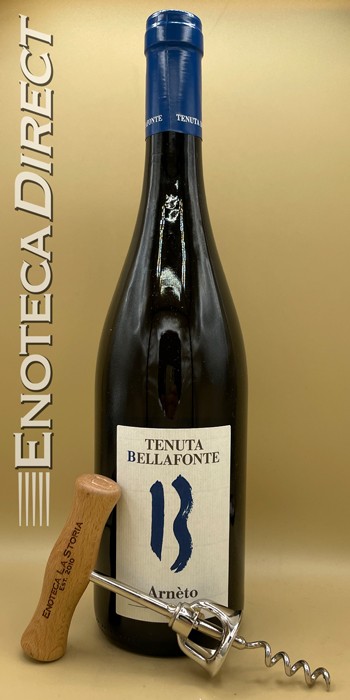 2018 Tenuta Bellafonte Bianco 'Arnèto'
Umbria, Italy
100% Trebbiano Spoletino. This white grape is native to the Umbria area, going back 2,000 years. The wines are generally very aromatic with strong personalities and great versatility. The vineyards are located near Spoleto and Bevagna, just 260-320 meters (853-1,050 feet) above sea level with eastern exposure. After cold maceration, the grapes begin fermentation whole through spontaneous fermentation in oak barrels. The wine then goes through malolactic fermentation before aging six months on lees in large Slavonian oak barrels and four months in bottle; no filtering.
A bright gold appearance, intense notes of citrus, yellow peach, pineapple, yellow flowers and an accent of flint. The complex palate is perfectly harmonized with its warm sensation and the fullness of flavor. Its textures are weighty, almost glycerol-like, yet balance is maintained, as zesty acids and a more savory display of nectarine and tropical florals form toward the close. This varietal Trebbiano Spoletino would probably benefit from a short decanting.
With its bolder, richer style and peachy notes, the unique white is an awesome match for richer poultry and fish dishes that feature roasted fruit or fruit-based sauces. Roasted veggies will pair well too.
Umbria is known as "the green heart of Italy," located in its very center. The region's rolling, restful scenery has inspired some of the country's finest art and spirituality, even inspiring Saint Francis himself. Peter Heilbron, a Milanese-born executive from the food and beverage industry, fell in love with this peaceful landscape while he was working for a major international food brand, in 1985-98. After a few years as CEO of two leaders in the spirits and beer industries, he decided to act on his passion for the unique terroir of Montefalco, near Perugia and home to a powerful and celebrated Italian wine: Sagrantino di Montefalco DOCG. He took a chance and bought 23 hectares (57 acres) close to Bevagna, in one of the region's most untouched, pristine landscapes. There are 7 hectares (17 acres) of Sagrantino under vine, from new and old vines as well as 2 hectares of Trebbiano Spoletino and four more on their way. The sun-drenched tough, stony soil is mixed with the area's typical marn and arenaceous formations. The remaining hectares include woodlands and 2,500 local-variety olive trees. Tenuta Bellafonte's aim is to blend into the landscape, impacting the environment as little as possible. The winery and cellar are both located underground. The estate also uses solar panels and a biomass boiler, meaning no damage or waste; even the remains of pruning are used to produce energy. The winery itself rests on a stainless steel and stone structure directly in contact with the rocky soil, enjoying ideal ventilation thanks to underground conduits that transfer outside air and ensure naturally cool temperatures. Hot air exits the winery through two large chimneys. This same, eco-friendly logic applies to the Bellafonte vineyard practices. Fertilization is entirely natural, by means of manure. They do not use chemical herbicides and the trickiest work is performed by hand. Collenottolo (colle means hill in Italian and Nottolo is the name of the hill) is named for the location of the winery and most of the Sagrantino vineyards. "We felt this was the best name for a wine that is so deeply rooted in its terroir," explains Peter.
As proof of their dedication to produce wines of the highest quality, they hired Beppe Caviola as winemaker and Frederico Curtaz as agronomist. These two gentlemen are two of the top people – in the world – in their respective fields of expertise.