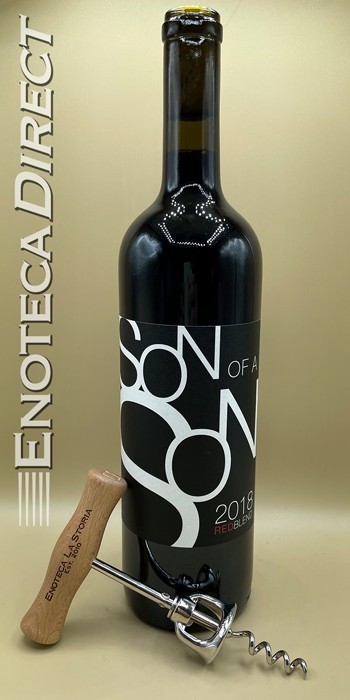 2018 Son of a Son Red Blend
Paso Robles, California
This wine is comprised of 100% Paso Robles grown fruit, but the grape blend is all Italian. Comprised of 63% Sangiovese, 28% Aglianico and 9% Barbera, it is full bodied but surprisingly restrained.
Tasting Notes
This Cal-Ital bottling employs a blend that you wouldn't normally see in Italy, and its character is quite different as well. Being from Paso, its fairly full bodied, but it is surprisingly elegant with deep red cherry and raspberry fruit, as well as varietal notes of anise, licorice and crushed mint.
About Son of a Son
Son of a Son wines are made with Italian grape varietals grown and produced on California's Central Coast. With a heritage rooted in four generations of family farming, owner and winemaker Christopher Ferrara (also of Clesi Wines) crafts this red wine blend so that it is approachable, ready to enjoy and food friendly. Equal parts legacy, curiosity and culture, he brings his Sicilian-American farming roots, love of eccentric varietals and reverence for Italian culture into his winemaking process. The wines are deeply influenced by Chris' extensive travels throughout Italy's wine regions. As a viticulturist, Chris immediately noted the similarities in climate and soils between parts of Italy and California and he naturally began planting old world varietals on the Central Coast, the results of which are beautiful food-focused wines that are iconic, restrained and elegant.
"I have worked with these vineyards for over 20 years now; I truly do believe in their farming practices and sustainability." ~Chris Ferrara, Winemaker