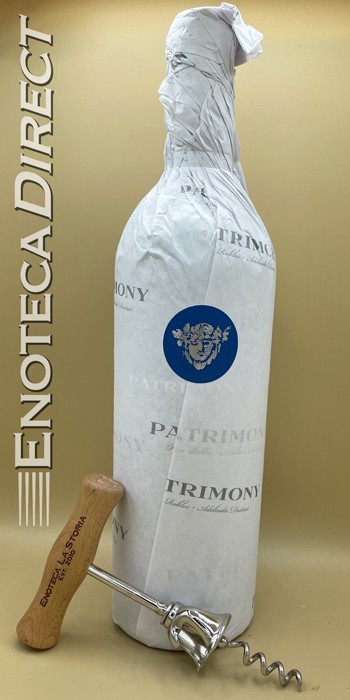 2018 Patrimony Cabernet Sauvingon
Paso Robles, California
We only received six bottles of this super rare, allocated Cabernet from DAOU mountain in Paso Robles.
100% Cabernet Sauvignon. Patrimony fruit undergoes state-of-the-art optical sorting to ensure absolute flavor integrity. Fermentation proceeds exclusively with wild yeasts cultured from DAOU Mountain, imbuing the wine with native texture and character. The wine is made entirely from free-run juice. Maturation unfolds for 30 months in rare French oak barrels prized for their fine grain and distinctive elegance. Only after further aging in the bottle for one year do all of these aspects coalesce into complete symmetry.
The Patrimony aging program is built around the most coveted French oak barrels that are accessible only through personal relationships with top cooperages. These barrels are: (1) Taransaud T5 barrels coopered from five-year seasoned staves cut from centuries-old Tronçais forest trees; (2) limited Tonnellerie Sylvain barrels made from 362-year-old fine-grain oak, originating from a forestry program initiated during the reign of Louis XIV; only 35 of these barrels were produced from two fallen oaks in the Futaie des Clos plot of the Bercé royal forest; and (3) a proprietary DAOU barrel created from rare, super fine-grain pink oak that is also seasoned in the elements for five years. This proprietary barrel is custom toasted with a low flame to avoid char and ultimately accentuate the wine with extraordinary length.
From the Winery: This wine definitely qualifies as the most elegant PATRIMONY Cabernet to date. The longer hanging on the vine provides a great tannin structure while maintaining Freshness. The nose is layered and complex, exploding with chocolate, cooked blackberries, violets, cedar and cigar box. On the palate, crushed stones give it a dimension rarely seen in a new world wine. The fruit is pure and potent yet very fine while being accompanied with a kaleidoscope of flavor ranging from blueberries, blackberries, dulce de leche and a touch of rose petal while having a very mineral and floral note. This wine will show its potential after it ages in the bottle for several years. With an immense structure, this will age and improve for decades.

100 points, Tasting Panel. "With a prolonged hang time – and the latest harvest to date on Daou Mountain – this 100% Cabernet Sauvignon is not only concentrated, but silky and ultra-generous in fruit and aromatics. The dazzling texture of Devil's Food cake, boysenberry preserves, offers a most sensual mouthfeel that is more of a caress than a grip. The wine's inherent calcareous nature weaves its chalky minerality through a field of violets and sweet tobacco. Aged 30 months in an assortment of high end French oak barrels, with extra tight grain and a medium-long toast."

98+ points, Jeb Dunnuck. "The 2018 Cabernet Sauvignon is another magical wine from this estate. Deep purple-hued, with full-bodied aromas and flavors of crème de cassis, toasted spices, tobacco, mint, and cedar pencil, it's just a quintessential Cabernet Sauvignon offering remarkable purity, building, ultra-fine tannins, and a great finish. Showing the pure, elegant, structured style of this vintage beautifully, it has the structure to benefit from 2–4 years of bottle age and will have 20+ years of prime drinking."
98+ points, Robert Parker's Wine Advocate. "Still in barrel, the 2018 Patrimony is shaping up to be an archetypal Paso Cabernet Sauvignon. The nose is layered and deep, exploding with mint chocolate, iron, crushed blackberries, violet, cedar and cigar aromas. Structurally, it's surprisingly fresh and silky. The fruits are pure and concentrated, but it's lifted and juicy, with incredibly fine, dust-like tannins and a very long, nuanced finish that lifts toward a very pretty mineral, floral note. Gorgeous! This is expected to age in 100% new French oak for 30 months."