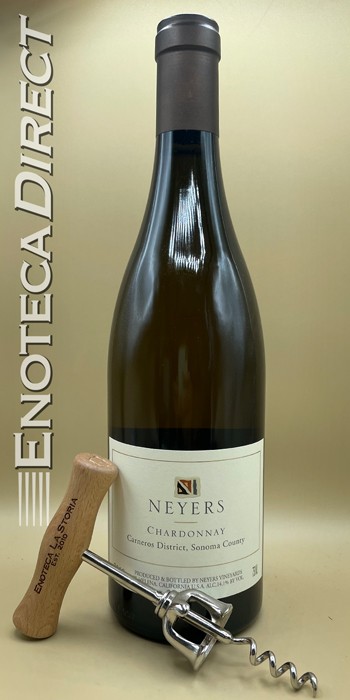 2018 Neyers 'Carneros District' Chardonnay
Carneros, California
The 2018 Chardonnay 'Carneros District' from Neyers Vineyards is a blend of fruit from cool-climate vineyards in the Carneros district. Fermentation was carried out in a mixture of new and used French oak barrels using wild yeast, and periodic lees stirring.
Even though Neyers Vineyards sits in the heart of the Napa Valley, Bruce's experience with French wine importer Kermit Lynch has had an undeniable influence on his wines, so he farms organically, make the wines naturally without use of cultured yeast or laboratory designed malo-lactic starter, and bottle them wines without fining or filtration. Neyers barrels are made in France, to their specifications, from wood that they buy in bulk and air dry for three years, two years longer than normal. All of the grapes are picked by hand, into small bins that hold only one-half ton. They are then laboriously hand sorted and inspected at the winery as winemaker Tadeo Borchardt gently guides the winemaking process along. Some of the best - and reasonably-priced - wines beng made ANYWHERE in California! - Mike Guerra
Tasting Notes
This is a luxuriously layered and complex white. It's an expertly rendered combination of ripe, rich fruit—most notably spicy apple and pear with just a hint of butter—that's completely uplifted by bright acidity and a refreshing mouthfeel. Still youthful, it's both vibrant and nuanced, with just the right amount of toast and spice from the judicious use of oak.
About Neyers Vineyards
In 1999, Bruce and Barbara Neyers purchased and renovated a winery on a thirty-acre parcel in the Sage Canyon area of Napa Valley. Over the next 14 months they built a modern, highly functional winery designed for traditional winemaking practices. They produced their first vintage in this state of the art facility in 2000. In 2002, Wine and Spirits Magazine named Neyers Vineyards the Artisan Winery of the Year.