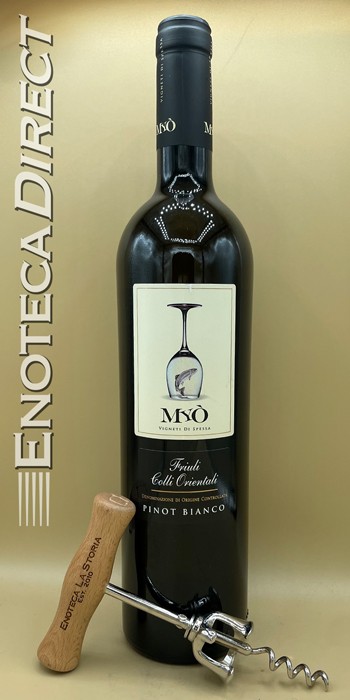 2018 Myò Pinot Bianco
Friuli, Italy
The Friuli Colli Orientali Pinot Bianco of the Myò selection of Zorzettig comes from the oldest company vineyard, with about 60 years of age, located in the Pavia area of Spessa, in Lombardy.
It is produced only with Pinot Bianco grapes, harvested by hand in small crates and pressed whole. After a brief clarification at low temperatures, the must ferments in stainless steel tanks at a controlled temperature of 18-19 ° C. Subsequently the wine ages on the noble lees for 6 months, before being bottled.
Pinot Bianco Myò has a straw yellow color with greenish reflections. The nose opens with a fruity bouquet, with hints of Golden apple, grapefruit and plum, supported by notes of almond, hay and wild herbs. On the palate it is well structured and sapid, continuning the scents perceived on the nose, with excellent persistence.
This white wine is perfect to accompany fish dishes and white meats.
Annalisa is the ambassador of this beautiful Friulian wine family, with a farming history as deep-rooted as it is illustrious in the territory. The vineyards, which are comparable to a Tuscan landscape, are the calling card of the Zorzettig family, which is committed, with oenological rigour, to the enhancement above all of the native vines, with a preference for single varieties in only steel.
There are many hectares, about a hundred or so, but they include some of the oldest vines in the region. Here we have the acclaimed Myò line, considered the winery's top of the range. Here the straight and taut style of the classic line is oriented towards more relaxed and enveloping scents of hay and straw, without giving up the distinct minerality that characterises all references, especially white. Reds and whites of both lines excel in cleanness and correctness, the result of impeccable oenological management and a maniacal attention to the ripening of the bunch.