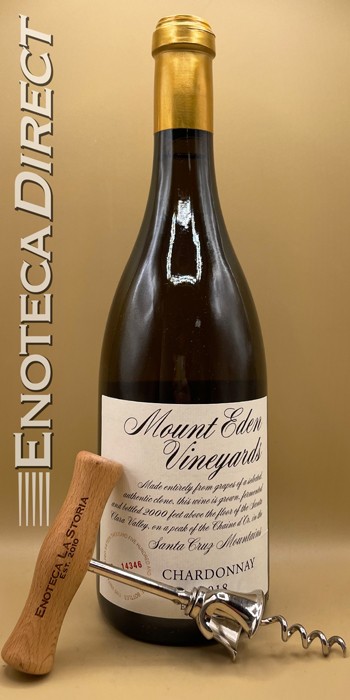 2018 Mount Eden Estate Chardonnay
Santa Cruz Mountains, California
These local legends are among our favorite wineries in California, if not the world. Located high in the hills above Saratoga on a incredibly beautiful and historic estate, winemaker Jeffrey Patterson and his family create small lots of Pinot Noir, Chardonnay, and Cabernet Sauvignon that are not only ageworthy and high scoring, but just plain delicious. The Chardonnays are unusual, extraordinary, and intoxicating in both aroma and flavor. Salted yellow apple skin, oily citrus fruit, white flowers and pleasant earthiness are all wrapped up in a tightly wound structure that manages to be mouthfilling and lean at the same time. Lots of lees contact, barrel fermentation, full malolactic fermentation and lots of oak (half new and half one year) contribute to incredible richness, but the moderate alcohol (13.5%) and zinging acidity keep it mouthwatering and refreshing. Seriously on the my favorite wines ever, and this is another great vintage. As usual with Mt. Eden, a joy to drink already but will only get better. ~Ryan Smith, Enoteca Direct
In the late 1940s and early 1960s, Martin Ray planted six acres of Chardonnay vines propagated from a Burgundian selection grown in the original Paul Masson vineyard. 20 acres of Estate Chardonnay are now farmed at Mount Eden from which 1,200 to 2,000 cases per year are produced. Yields average one to two tons per acre, far below the average for Chardonnay in California. The Estate Chardonnay grapes are harvested when slightly yellow to yellow-green and are pressed without crushing. All of the juice is barrel-fermented in new and one-year-old French Burgundy barrels, where the wine undergoes full malolactic fermentation and is ages on the lees for ten months before being lightly filtered prior to bottling. The Chardonnay is then cellared for two years before being released for sale.The full-bodied Estate Chardonnay displays fine underlying acidity and a long finish. Hints of cardamom, anise and hazelnut add interest to the core lemon, mineral flavors. Of all Mount Eden's estate-grown wines, the Chardonnay is most in need of further bottle aging at release, requiring an additional two to four years to fully reveal its true character. Many vintages are still fresh and enjoyable after fifteen years, explaining why Mount Eden Estate Chardonnay is considered one of California's longest-lived white wines.
94 points, Wine Enthusiast. "Honeyed nut, tangerine peel and baked apple aromas show on the nose of this bottling. A zesty acidity enlivens the palate from front to back, carrying toasty flavors of pan-seared apple, cashew, sea salt and white flower."

93 points, Jeb Dunnuck. "A Burgundy lover's Chardonnay from the Santa Cruz Mountains, the 2018 Chardonnay Estate is another terrific effort from this estate. Lots of honeyed citrus, nectarine, toast, crushed stone, and white flower notes define the bouquet, and it opens beautifully with time in the glass, gaining both richness and complexity. Medium-bodied, it stays tight and compact on the palate, with bright yet integrated acidity, solid mid-palate depth, and a great finish. As with all of Patterson's wines, it's brilliantly made, balanced, and well worth checking out."