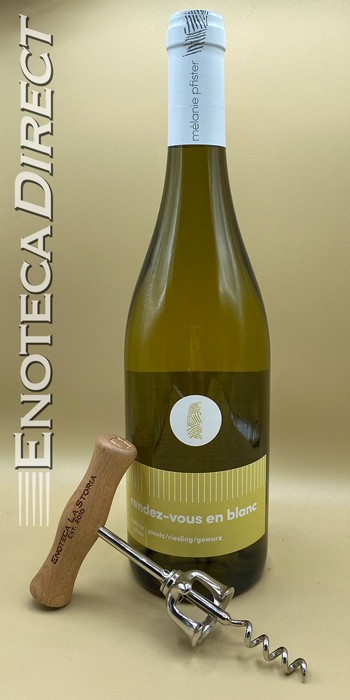 2018 Mélanie Pfister Rendez-Vous en Blanc
Alsace, France
This stunning white blend has 36% Pinot Blanc, 28% Pinot Gris, 28% Riesling, and 8% Gewurztraminer all declassified from Alsace! This amazing value is bottled under the Vin de France appellation so it can be bottled in a more familiar Burgundy bottle rather than the traditional tall Alsatian bottle. Each variety is raised for around 18 months in steel on its lees before being blended and then bottled. Dry, fresh, and aromatic, this is meant to be an easy, delicious preface to Alsace!
Tasting Notes: The blend of different grape varieties gives this wine a lovely, seamless personality, with a lovely bouquet of nectarine, pear, a touch of orange, a hint of menthol and plenty of floral shadings. On the palate the wine is bright, full-bodied and complex, with fine balance of zesty acids and a long, classy finish.
About Domaine Mélanie Pfister: Domaine Pfister dates all the way back to 1780 in Dahlenheim, due west of Strasbourg in the northern reaches of the Bas Rhin of Alsace. Mélanie Pfister, who took over from her father in 2006, is the eighth generation Pfister to make wine at the domain. Before taking over Mélanie did internships at some very prestigious estates: Zind-Humbrecht, Méo-Camuzet, Château Cheval Blanc, Château d'Yquem and Craggy Range. Still working together, Mélanie and her father farm 43 parcels totaling twenty-five acres of vines, 25% of which is Riesling. The farming 100% organic as of 2018, but herbicides and chemicals where removed from the vineyards starting back in the 1980's. Indigenous yeast is preferred, but she reserves the right to use non-aromatic cultured yeasts in more problematic years, and the wines are fermented dry and bottled with a minimum addition of sulfur. This is a young and dynamic producer to watch as she pushes forward with a modern and delicious style of Alsatian wine.