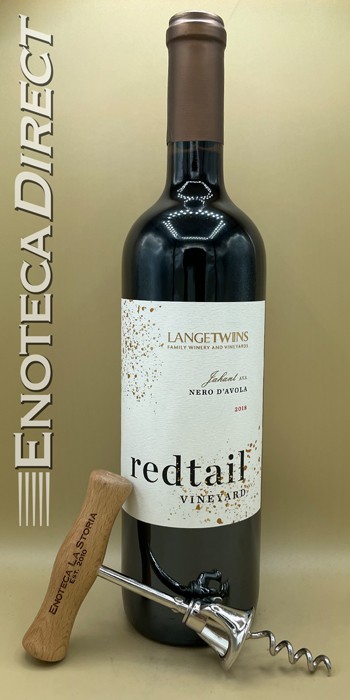 2018 LangeTwins Nero d'Avola 'Redtail Vineyard'
Lodi, California
100% Nero d'Avola. Single vineyard. Fermented in stainless steel. Aged in a combination of neutral French and American Oak for 12 months. 975 cases produced.
Opening with bright aromas of raspberry and spice. Medium-bodied. More dark (mix of red and black) fruit and herbal notes come across the palate and carry through to the finish. The subtle tannin and fruit flavors make this an ideal wine to pair with a variety of foods.
Located in the center of the Lodi AVA, the Jahant AVA is geographically the smallest of Lodi's seven AVAs – a total size of 28,000 acres, with roughly 9,000 acres planted to vineyard. It sits on highly dissected river terraces and old floodplain deposits. The classic Mediterranean climate has Delta fog influence, and receives cold air drainage and entrapment within our vineyards.
Brad and Randall Lange, twins and fourth-generation Lodi wine/grape farmers, grew up and raised their families on the land they still farm to this day. Together with the fifth generation, they made a generational decision to build a winery to ensure their farm, communities, and the agricultural way of life thrives.
The twins' great-grandparents set down agriculture roots in Lodi in the 1870s and began a family farm growing non-irrigated watermelons. The farm grew year over year and by 1916 the family purchased their first vineyard. It was on this farm that the twins' dad gained experience to carry on the family's agricultural roots. The twins' dad expanded their farm to include the River Ranch and the DeVries Road Ranch, where the twins grew up helping work the farm while exploring the surrounding land.
After returning from college, the twins purchased a small vineyard from their dad and began their farming partnership. It was here, the River Ranch, where they had countless childhood adventures, where they built their lives as neighbors, raised their families, and reignited their love for the land.
90 points, Wine Enthusiast. "Aspects of flint and iron inflect the aromas and flavors of this full-bodied, smoky and savory wine. Hardly a fruit-bomb, the medium-bodied palate has a nervy, slightly tannic texture and an adventurous set of flavors."