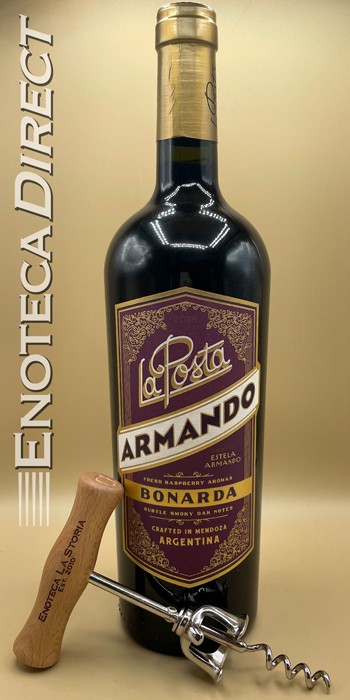 2018 La Posta Armando Bonarda
Mendoza, Argentina
100% Bonarda from 53 year old vines grown by Estela Armando on her grandfather's half-century old Bonarda vineyard at 2300' elevation. 70% of the final blend was aged in second use French oak barrels for 10 months, while the remaining 30% of the juice was aged in stainless steel. Only 500 cases of this wine were imported to the United States.
Tasting Notes
Intense ruby color with bright aromas of fresh red & black raspberries and subtle smoky oak notes. The flavor of freshly-crushed raspberries is echoed on the palate, along with notes of leather, dark chocolate, and a touch sandalwood on the finish. Though quite rich and hedonistic, the seamless structure of this wine makes it a candidate for drinking in its youth or over the next few years (if you can wait that long).
It's sensational with lamb stew, beef Wellington, seasoned turkey, Thai red curry chicken or any kind of barbecued meat. Also ideal with kebabs, Indian or Mediterranean food- really anything you would drink Zinfandel with.
About La Posta Armando
The Silva family pioneered grape growing in the Colchagua Valley with the first vineyards back in 1892. Their cellar is the oldest in the valley, yet they strive to innovate in their vineyards and to pioneer new terroirs in the Colchagua Valley. They are paving the way for the Chilean Carmenere varietal by investing in research studies in their vineyards to study Carmenere clones and its microterroirs. Casa Silva is the most awarded Chilean winery in the 21st century. They were recently named "Best Winery of Chile - 2020" by Catad'Or Wine Awards, the most important international wine competition in Latin America.
La Posta translates to "the tavern," where the farmers meet to discuss their soils, their vines, their quest for superior flavors, and their passions for life. In collaboration with wine pioneer Laura Catena and esteemed winemaker Luis Reginato, the hard work and skill of the people behind the wines are expressed in La Posta.