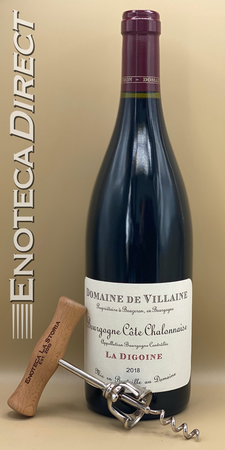 2020 Domaine de Villaine "La Digoine" Rouge
Burgundy, France
Highly allocated! Personal domaine of Aubert de Villaine - proprietor and director of Domaine de la Romanée-Conti! This is still an "under-the-radar" estate and a crazy bargain for the quality and pedigree of this wine! The de Villaines farm three appellations within the Côte Chalonaise, namely Bouzeron (Aligoté), Rully (Chardonnay and Pinot Noir) and Mercurey (Pinot Noir). Their single-vineyard parcels are stunning examples of what this complex and amazing terroir can yield. Though their wines are quite enjoyable young, their ability to age well is what one might expect from a master such as de Villaine. Much of this is due to both the diversity of his vinestock and his organic and biodynamic methodology in the vineyards. This noble red Burgundy has always drunk well above its price. It has been produced since the 1973 vintage, and an overwhelming majority of those vintages are still drinking well. To smell it is to know it: noir, peppery, mysterious; these characteristics are a constant. La bouche is masculine and sinewy, very pure, with a beautiful noble tannin and excellent finish. Organically farmed. 30-35 year old vines.
From the winery:
"La Digoine is a site at the foot of a slope, known for centuries to provide the deep soil and growing conditions necessary for excellent red wine. Our vineyard here is planted in moderate-yield Pinot Noir. La Digoine can be drunk very young. Within two or three months of bottling, it demonstrates immediate appeal with red berry fruit and a balance of roundness, structure, and length on the palate. However, this is another versatile wine which benefits from bottle aging.
After 18 to 24 months, slow maturation and evolution begin to make their mark, and La Digoine will improve over the next ten years, revealing the deep, complex aromas worthy of a great burgundy.
Depending on cellar conditions, we recommanded twelve to fifteen years of aging.
Serving temperature for a young La Digoine should be around 60°F, and around 64°F for an older one.
It goes well with red meat and any of a variety of cheeses, though soft cheeses like Camembert, Brie, and Vacherin should be avoided."