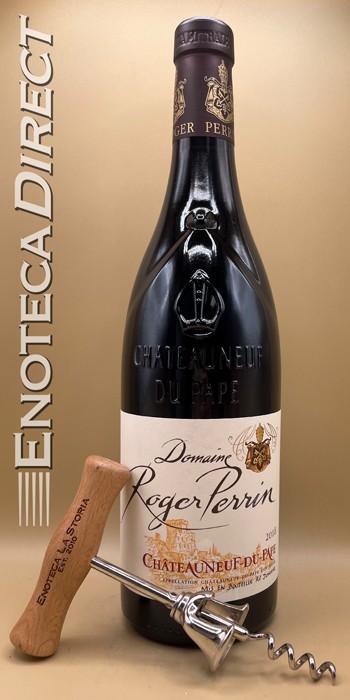 2018 Domaine Roger Perrin Châteauneuf-du-Pape
Rhône, France
This wine is a sophisticated blend of 76% Grenache, 12% Syrah, 7% Mourvèdre, 3% Cinsault, 2% Clairette, 2% Counoise, and 2% Vaccarese. The grapes are harvested by hand and partially (30-40%) destemmed depending upon the ripeness of the vintage. Vinification takes place in cement tanks over a period of 18-to-23 days. Certain lots of grapes are harvested separately, but generally two or three grapes are vinified together. 30-40% of the wine is raised in foudre, 40-50% in enamel-lined tanks, and 15-20% in new oak. The wines are normally blended after a year.
Tasting Notes: On the nose, summer fruit, blackcurrant and blackberry, Provençal spices (garrigue), pepper, a hint of vanilla with a touch of gaminess. Reliably complex nose. All these aromas resurface on the palate in the company of some very subtle tannins. Generous and mouth-filling, boasting superb persistence on the palate. Lovely fresh finish. Amazingly well-balanced.
About Domaine Roger Perrin: Vineyards have existed on the Roger Perrin property between Orange and Châteauneuf since the beginning of the 1900's. However, the Domaine Roger Perrin was founded in 1969 when Roger Perrin took it over after his father-in-law's retirement. Roger died unexpectedly during the harvest in 1986, and his son Luc took over the domaine. Luc had studied enology and done an apprenticeship at Château de Beaucastel, which is managed by another family named Perrin. Slowly Luc Perrin increased the quality at his domaine so that people began to recognize his name as a producer rather than mistakenly as one of the "Beaucastel Perrins." The two families, although neighbors and friends, actually have no genetic ties. Sadly, Luc also died young in 2010, and his oldest sister Veronique took over for a time. She subsequently passed control of the domaine to her son Xavier, who today, as the 5th generation working the land here, is proudly continuing Luc's viticultural and vinification practices.

Perrin's holdings include 40 hectares of vineyards, spread out over 70 different plots. While some of the vines are more than 100 years old, the average age of the vines is 60 years old and 85% of the vines are over 20 years of age. The Châteauneuf vines are planted on two types of soil: clay and limestone subsoil covered by the galets roulés (so familiar to anyone who has seen Châteauneuf vineyards), and a sandier soil which gives wines that show a little more aromatic and tannic finesse.​