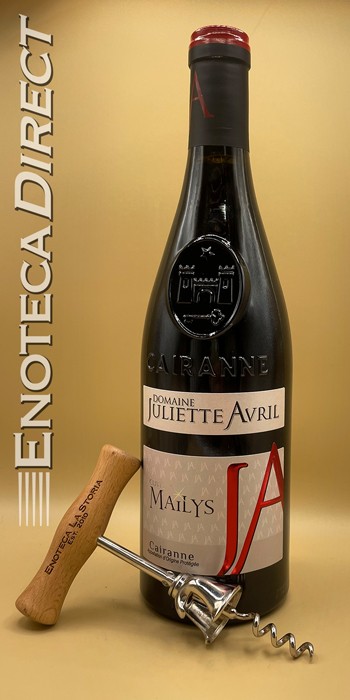 2018 Domaine Juliette Avril Cairanne 'Cuvée Mailys'
Rhône, France
65% Grenache, 25% Syrah, 10% Mourvèdre. The grapes are mixed at the time of harvest and co-fermented. Fermentation lasts approximately 15 days for a destemmed harvest, with the wine being pumped over the cap 2 to 3 times per day and at a temperature of 26 °C maximum. Malolactic fermentation then takes place in a concrete tank. The estate's vines in the Cairanne appellation grow in two types of terroirs: white clay with limestone, cold soil, that gives wines with tight, robust, and powerful tannins, and red clays, which offer generous wines and bear more complexity and aromatic richness.
Tasting Notes
Beautiful dark garnet color with purple highlights; the initial nose is an exploding bouquet of red fruit; blackcurrant and blueberry dominate; In a second phase, a hint of licorice appears, followed by smoky and wild notes and a discreet and elegant violet fragrance. After these youthful qualities, the wine's structure settles in on the palate and reveals more evolved notes such as thyme and a slightly gamey finish. The tannins are ripe and well-coated;the acidity is perfect for maintaining freshness. Perfectly suited with grilled red meats, lamb chops or fresh goat cheese.
About Juliette Avril
The Domaine Juliette Avril's roots run long and deep. As First Consuls of Châteauneuf-du-Pape, the Avril family has cultivated centuries of winegrowing and Provençal tradition. As early as 1928, before the Appellation of Controlled Origin (A.O.C.) was officially introduced, Juliette Avril's father, Jean Avril, along with other local notable figures, participated in establishing fundamental rules for developing Châteauneuf-du-Pape wine. The estate consists of 30 hectares of Châteauneuf du Pape, including 10 hectares in AOP Cairanne, 1.3h in AOP Côtes-du-Rhône Villages "Plan de Dieu", 10h in AOP Côtes du Rhône, 4h in AOP Ventoux, and 2h in Vin de Cépage.