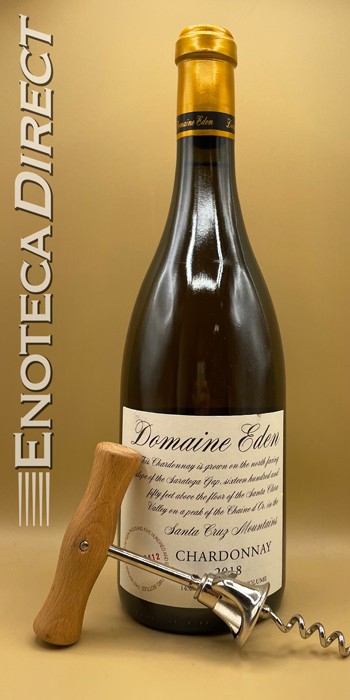 2018 Domaine Eden Chardonnay
Santa Cruz Mountains, California
All of the Chardonnay is essentially estate grown at Mount Eden or at Domaine Eden. Prior to bottling the winemaking team tastes through all of these Chardonnay barrels and selects for different personalities. The Domaine Eden Chardonnay is highlighted by forward fruit, earlier drinkability and obvious hedonism and is usually composed of 60% Domaine Eden and 40% Mount Eden fruit but it varies slightly by vintage. With both the Estate and Domaine Eden Chardonnay, the same principles apply: Barrel fermentation in Burgundy barrels (50% new), natural yeasts and malolactics, aging sur-lie for nine months, no manipulation of the wines and lastly, an obsession to preserve the terroir. As one would expect, this Chardonnay exhibits classic Mount Eden Burgundian style with detailed aromas and flavors of citrus fruit, anise, dill and earth. More open in personality than the Estate at the same age, yet with all the length of the flagship.
Domaine Eden is a mountaintop wine estate purchased by Mount Eden Vineyards in 2007. Modeled after Mount Eden, it was founded and built by the late Tom Mudd in 1983, who initially planted the Mount Eden clonal selections of Chardonnay and Cabernet Sauvignon, which evolved to include Pinot Noir from various Dijon and California selections. This is the former home of Cinnabar Winery.
This property inspired a new wine brand, Domaine Eden, which focuses on Pinot Noir and Chardonnay from this special site and Bordeaux varieties from Mount Eden's larger home, the Santa Cruz Mountains.
93 points, Wine Enthusiast. "Toasty wood aromas meet with lemon oil and concentrated honeysuckle on the nose of this affordable sister to Mount Eden. There is a firm grip to the palate, where those citrus and wood flavors converge alongside salted sunflower seeds and cashew."

93 points, Wine & Spirits. "When Mount Eden acquired the Cinnabar estate on a nearby ridge in Saratoga, it renamed the property Domaine Eden. This wine includes fruit from Domaine Eden as well as the original home site, representing the more fruit-forward lots, and it's a beauty in 2018. Supple and round, this has layers of savory herb and flower petal notes, a contrast of voluptuous richness and delicacy."