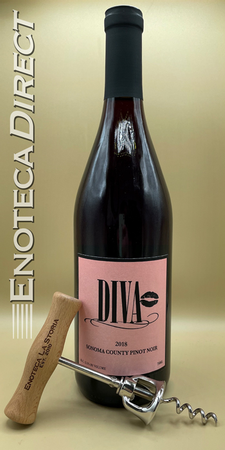 2018 Diva Pinot Noir
The diva is back! This wine is all our all time best selling Pinot Noir, and for good reason. Its medium bodied, balanced, so easy to drink and remarkably affordable for quality, varietally correct Pinot Noir.

Enticing aromas of red and black cherry lead to cherry, rhubarb, forest floor and dried cranberry notes on the palate. The mouthfeel is rich and lively, and the finish lingers nicely with soft velvety fruit and barrel spice.
Winery Background/History
As most of you know by now, this is a label that we've created to put on a bottle of wine crafted by a talented winemaking team, overseen by our friend and ultra-talented winemaker, Marco DiGiulio. Marco's company, Vintage Wine Estates OWNS wineries and vineyards AND has connections with top winegrowers throughout the north coast region (including Napa and Sonoma), so they are able to get great quality fruit at unspeakably low prices. They also own several winemaking facilities and a bottling and labeling warehouse (Can you say "low overhead?") – all of which allows them to sell us the wine at ridiculously low prices – especially for the quality of wine in the bottle! So here are the amazing Diva Pinot and Chardonnay – wines that we've been offering for over 7 years. They have always been amazing values, crowd-pleasing wine and a perennial favorite for both our staff and customers.

Food Pairing
As one of the wine world's most versatile, food-friendly red wines, Pinot Noir brings the rich fruit flavors of strawberry, cherry and raspberry to the glass often in a mix of warm spice and earthy undertones. It's the combination of great acidity, silky tannins and distinct body that make it so successful for pairing with a tremendous variety of favorites. Drink it on its own, or try it with bacon-stuffed mushrooms, grilled salmon, roast pork loin with potatoes and herbs, mushroom risotto, burgers, veggie lasagna or even fine cheeses like Gruyere or Brie.
Wine Specs
Appellation
Sonoma Valley