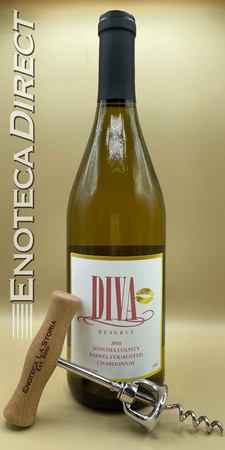 2018 Diva Chardonnay Reserve
The diva is back! High quality Sonoma County fruit is selected, blended, and barrel fermented to create a balanced and integrated wine that drinks well above its price level. There is a lot of varietally correct rich, ripe tropical fruit and citrus with integrated notes of creamy oak, vanilla and a slight hint of baking spice. Since this is barrel fermented and not aged in oak, the oak notes really just add depth to the fruit without overwhelming it. Refreshing, drinkable, and unmistakably Californian.
Winery Background/History
As most of you know by now, this is a label that we've created to put on a bottle of wine crafted by a talented winemaking team, overseen by our friend and ultra-talented winemaker, Marco DiGiulio. Marco's company, Vintage Wine Estates OWNS wineries and vineyards AND has connections with top winegrowers throughout the north coast region (including Napa and Sonoma), so they are able to get great quality fruit at unspeakably low prices. They also own several winemaking facilities and a bottling and labeling warehouse (Can you say "low overhead?") – all of which allows them to sell us the wine at ridiculously low prices – especially for the quality of wine in the bottle! So here are the amazing Diva Pinot and Chardonnay – wines that we've been offering for over 7 years. They have always been amazing values, crowd-pleasing wine and a perennial favorite for both our staff and customers.
Wine Specs
Appellation
Sonoma Valley