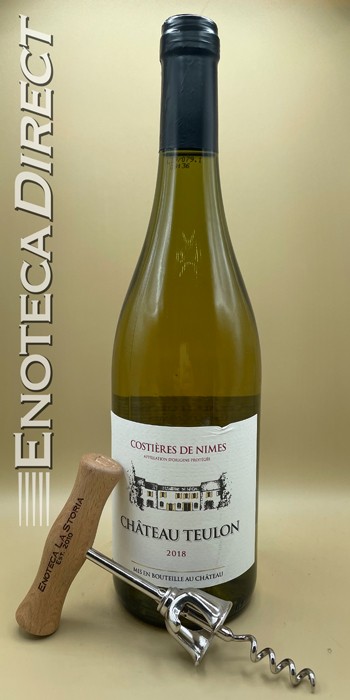 2018 Château Teulon Roussane Côstieres de Nimes
Rhône, France
100% organic Roussanne from the village of Saint Gilles. Integrated farming, with hand harvesting, organic herbicides use, no pesticides and the utilization of sustainable agriculture which respects the environment established by the Forum de l'Agriculture Raisonnée Respecteuse l'Environnement. Three passes in the vineyard, for only unbroken healthy grapes. Fermented and aged in temperature-controlled stainless steel.
Tasting Notes: The wine opens with strong aromatics of tropical fruit (mango, pineapple, melon), floral white petals, and a salty ocean breeze. It's a robust example of Roussanne, kept light and lively by its ever present orange-tinged acidity. This is a year-round white, bright enough for hot summer afternoons and weighted nicely to match a cool fall evening.
Winery Notes: The Teulon family has some of the deepest roots within southern France, and established their Château well over 400 years ago. Now—seven generations later—Château Teulon combines traditional Rhône savor with present-day practices. For example, five years ago, the estate became entirely certified organic. They are able to do what many are not: effortlessly meld ancient tradition with the world we currently live in. Many like to think of Côstieres de Nimes as the Rhône Valley with a dash of Mediterranean soul—and Château Teulon embodies this better than anyone in region.