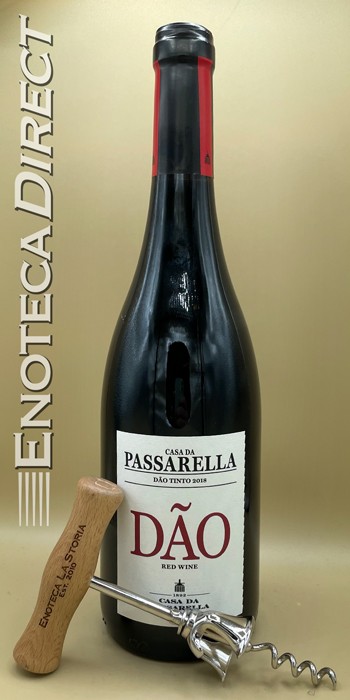 2019 Casa de Passarella Dão Tinto
Dão, Portugal
This blend is made from a hand-harvested blend of 40% Touriga Nacional, 20% Tinto Roriz, 20% Alfrochiero and 20% Jaen. Fermentation occurs in traditional concrete lagares. The wine is aged in French oak casks for eight months and another four months in the bottle before release.
Tasting Notes
This blend of Touriga Nacional, Alfrochiero, Jaen, and Roriz offers lovely dried pine needle and black fruit aromas and fresh black cherry flavors. Nicely balanced in terms of fruit and structure, flavors extend through to finish, under pinned with a refreshing acidity. Superb value for the money.
About Casa da Passarella
Casa da Passarella was founded in 1892, before Dão was demarcated as a wine region in 1908, and are founders of the region. The Dão is south of The Douro Valley, inland towards the Spanish border. Passarella is in the Serra de Estrela - very high, cold, and poor soils in the 'mountain to the stars', the pass separating Portugal from Spain. The climate is Continental, at an altitude of 600 metres and allows for long hang times, resulting in sleek ripe tannins, excellent acidity and overall freshness.The mountains protect from continental extremes of temprature and also from drenching Atlantic rains. Handling is traditional, in concrete vats and large old wood, with fruit manually crushed by ancient devices.
Passarella is very much about its terroir and tradition. Winemaker Paulo Nunes (also winemaker for Quinta da Bica) likes the old vines and traditional varieties on the property. Currently he is in the process of replanting the estate's old field blend varieties, vine for vine, in new vineyards. He believes the estate's clones are perfectly adapted to its terroir, so is reusing cuttings from existing vineyards to repopulate the new. It's clear he isn't interested in making 'globalized' wine style, feeling it is 'best to make a statement with only what Dao can do.' Paulo is not a fan of Tinta Roriz, which he considers 'boring.' As it was never part of the original vineyard, there are no plans to expand in that direction.