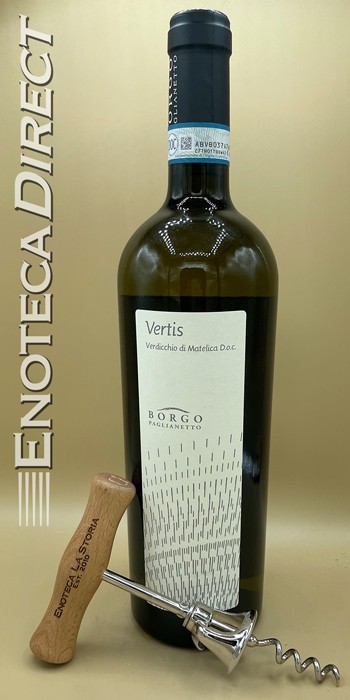 2019 Borgo Paglianetto Verdicchio di Matelica 'Vertis'
Le Marche, Italy
100% organically farmed Verdicchio. Aged 8 months in stainless steel tanks and 4 months in the bottle. The two years of evolution and characteristics in the bottle have allowed the unmistakable characteristics of Verdicchio di Matelica to develop and shine through.
The etymology of its name derives from the Latin "vertere " ("turn") and means "the highest point". Vertis is the highest expression of Verdicchio: obtained from grapes from the most long-lived vineyards (of about twenty years) and with southern exposure.
Vibrant, mineral-tinged aromas of lime zest, green apple and jasmine, with a spicy, gingery overtone. Dusty and precise on the palate, offering tangy citrus fruit and quinine flavors that flesh out with air. Finishes spicy, stony, dry and long, with the citrus and floral notes echoing.
Borgo Paglianetto is a 25-hectare estate that lies on the hills of Matelica in a closed valley, called Alta Valle dell' Esino. This unique valley represents the only case in the Marche region that has an unusual North-South orientation, which is a fundamental factor contributing to the creation of microclimate that allows the cultivation of grapes of the highest quality. Thanks to all these conditions it is possible to obtain a wine with a solid structure but capable, at the same time, of maintaining freshness, depth and balance. The reduction of chemical products and the low content of sulfites represent a pivotal goal for the company: the singularities of terroir, the climate and man's work strongly contribute to the quality of the wines. The recent decision to switch from conventional to organic farming represents a hugely significant development (and commitment) since organic grapes are synonymous with very challenging production methods as well as excellent quality fruit. The company not only certifies that the grapes are organic but also all the processes of winemaking and in the cellar.
Tre Bicchieri Winner, Gambero Rosso.
Top Wine, Slow Wine Guide 2022.
"Definitely worth the purchase is the Vertis, white top of the house. Aged in stainless steel, Verdicchio sings the praises of elegance with floral and anise tones. On the palate, it succeeds in a great coalition of juice and power, spicy tension and aromatic firmness." - Gambero Rosso