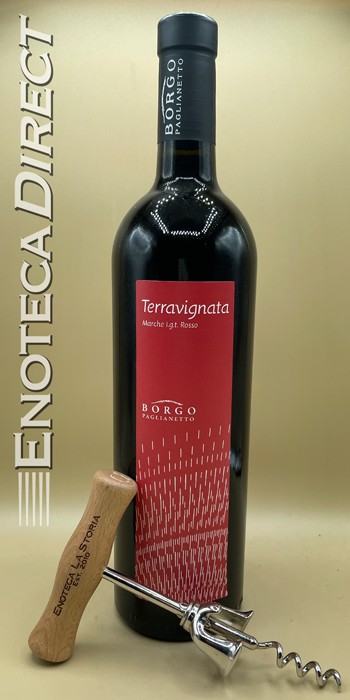 2019 Borgo Paglianetto 'Terravignata' Rosso
Marche, Italy
A 100% organic blend of Sangiovese, Merlot and Lacrima. "Terravignata" is a local term referring to the olden times of wealthy Roman landowners who owned land exclusively for growing grape vines. It is a youthful, easy-drinking style. Aged just six months in tanks, and then another two months in bottle, this is a wine meant to consume fresh!
Tasting Notes
This wine is all about the fruit, with aromas of red and black cherry and hint of violet. A very quaffable style with soft tannins and packed with juicy vibrant cherry fruit characters. Medium bodied with crunchy red cherry and earthy notes on the nose., this is a lovely food wine that pairs well with charcuterie and hard mature cheeses. This is so drinkable, it is hard to resist at the price.
About Borgo Paglianetto
Borgo Paglianetto, is a 25-hectare estate that lies on the hills of Matelica in a closed valley, called Alta Valle dell' Esino, This unique valley represents the only case in the Marche region that has an unusual North-South orientation, which is a fundamental factor contributing to the creation of microclimate that allows the cultivation of grapes of the highest quality - including organic farming. When compared to the more famous region of Castello di Jesi, Metalica wines are noted for their fresh, fragrant and harmonious character, displaying a slightly higher-toned characteristic than Verdicchio dei Castelli di Jesi, which are typically much rounder and mellower.