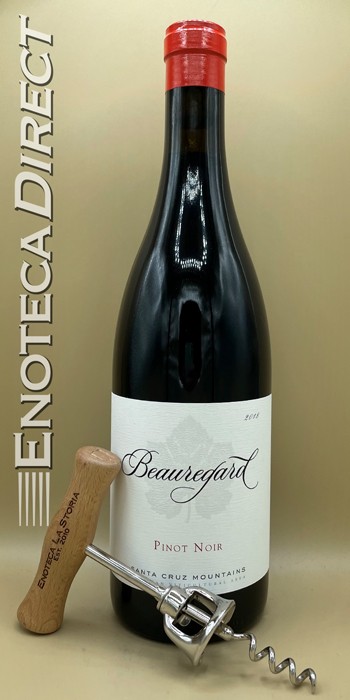 2018 Beauregard Pinot Noir
Santa Cruz Mountains, California
100% Pinot Noir fermented with native yeasts and aged in neutral French oak, coming in at a restrained 12.5% alcohol. This lean, light and savory Pinot is a great example of the Santa Cruz Mountains style- bright, punchy fruit, crisp acidity and lots of foresty, mountainy notes of herbs and spice.
Ryan Beauregard is a fourth-generation winegrower in the Santa Cruz Mountains who founded his winery in 2000 at the tender age of 25. Ryan developed a love for winegrowing at a young age, growing up on the Beauregard Ranch and playing among the vines as a child.
In 1945, retired Sheriff Deputy Amos Beauregard bought 13 acres of Pinot Noir, Cabernet Sauvignon, and Chardonnay from Quistorf who originally planted the vineyard circa 1880. Amos farmed the land at the newly named Beauregard Ranch until his final days. Amos' son Emmit (Bud) Beauregard, founder of Shopper's Corner Grocery Store in Santa Cruz, farmed the family land for a lifetime while running Shopper's. Bud's son Jim Beauregard took to farming at a very young age with his grandfather Amos. In 1982 Jim worked rigorously to establish the Ben Lomond Mountain AVA, a distinctively different terroir than the rest of the Santa Cruz Mountains. Over the years, Jim has planted hundreds of acres of vines throughout the Santa Cruz Mountains and still maintains his 68 acres of Pinot Noir, Chardonnay, Zinfandel and Cabernet Sauvignon.
91 points, Wine Enthusiast. "This appellation blend is a great peek at what Ryan Beauregard is up to atop his mountain. Aromas of juniper, wet tea and cranberry lead into a zesty palate of pomegranate, peppercorn and orange-rind flavors."