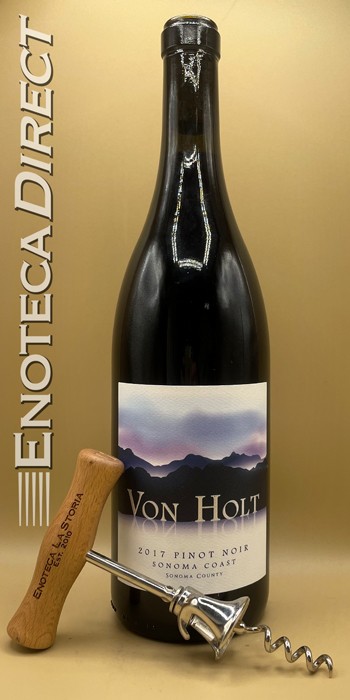 2017 Von Holt Pinot Noir
Sonoma Coast, California
The 2017 vintage of Sonoma Coast is a blend of 2/3 Hummingbird Hill and 1/3 Suacci Vineyard. These two diverse sites (geographically, soil types, orientation, clones) brought together here to make a layered and complex Sonoma Coast Pinot Noir. A compressed and early harvest for all three clones at Hummingbird in 2017 due to the unusual high temperatures in early September. This allowed for some co-fermentation of the clones. 100% used French Oak, no new oak. Unfined and unfiltered. Only 96 cases produced.
Tasting Notes
This is a softly layered and lightly bodied wine that is varietally characteristic and appealing in bark, clove and forest notes. The fruit is quiet and elegantly coaxed from the delicate texture, tasting of wild strawberry.
About Van Holt Wines
Owned by former Secret Service Agent Chris Von Holt and his wife (former Dance Studio owner) Pamela Miller. They aim to produce wines with elegance and bright natural acidity, early harvested so the wines express the vineyard's unique contributions that get covered up with overly ripe fruit.
Von Holt wines are made in a state-of-the-art winery in San Francisco operated by Ed Kurtzman, a friend and advisor to the Von Holts. Winemaker John Fones has assisted with non-interventionist winemaking at Freeman, August West and Roar following his UC Davis training - educatoin that Fones started after leaving a successful 16-year career as a Baltimore attorney.
Limiting production to 750 cases per year means they can pay close attention to the production of each little berry. I exaggerate, but you get my drift. Saying "the work is done if you pick at the right time," Fones sorts the grapes before fermenting with a varying mix of native and cultured yeasts. He bottles without fining or filtering the wines, using light oak treatment of 20-35%. Usually low in alcohol, Von Holt is not dogmatic about the 14% threshold for table wines (this one weighs in at 14.3%), instead aiming for that level where the flavors harmonize, seeking a lean and bright style driven by the uniqueness of each vintage.