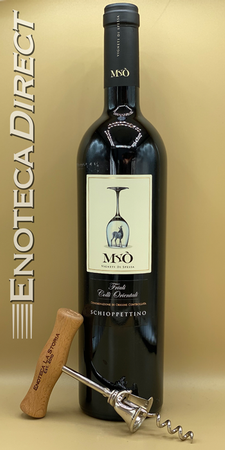 2017 Myò Schioppettino
Friuli, Italy
100% Schioppettino from a vineyard planted in 1980 in the immediate vicinity of the winery, on a hill with east-west exposure. Composed of old clones selected on the hills in the area where the varietal is supposed to have originated! Fermented in steel and aged in oak prior to bottling.
Tasting Notes
Deep red. Perfumed aromas of red cherries, sweet spices and herbs on the enticing nose. Then tart and austere in the mouth with slowly building sweetness of red fruit and spice flavors complicated by licorice. Finishes long and thick but with good juiciness.

Varietal – Schioppettino ("skee-oh-pay-TEE-noh")
Schioppettino is a dark-skinned grape variety native to Friuli-Venezia Giulia in the far northeastern corner of Italy. Having declined in plantings massively in the late 19th and 20th centuries, it was saved from extinction in the 1970s, and is now regaining the respect and recognition it once had.
Most Schioppettino wines are medium-bodied, deeply-colored, aromatic on the nose (violets and red berries) and spicy to the palate (peppery, earthy). Schioppettino is most often produced as a dry red wine, but can also be made into sparkling spumante versions, a local specialty of Friuli.