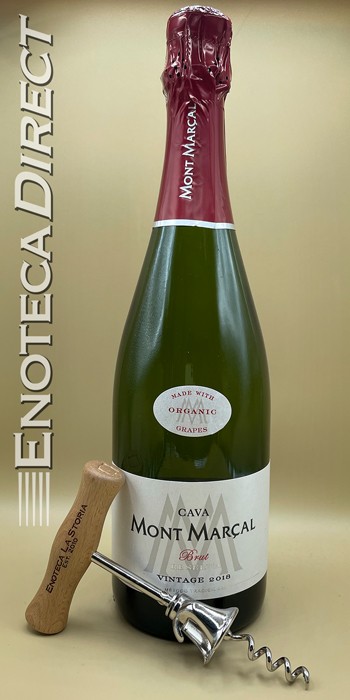 2018 Mont-Marçal Cava Brut Reserva
Penedès, Spain
You won't believe how good this is! Estate bottled and disgorged upon order following minimum of 18 months aging on lees. Produced from Xarel-lo, Macabeo, & Chardonnay grapes in a classically dry style. Like all Cava, this is made in the 'Champagne Method.'
Tasting Notes
Poached apple, tangerine and pastry cream notes are layered with lemon curd and chopped nut accents in this mouthwatering Cava. Lively and balanced, with a skein of spice winding through the finish.
About Mont-Marçal Vinícola
The cellar at Mont-Marçal Vinicola was founded in 1975 by Manuel Sancho, who after dedicating most of his life to music decided to redirect his attention towards a new art: winemaking. His daughter, Blanca Sancho, now runs the estate with a team of young professionals and has successfully managed to blend the vineyard's original philosophy with the restless spirit of new generations. One hundred acres are planted, ranging from Parellada, Xare-lo, Macabeo and Chardonnay for white wines; Tempranillo, Cabernet Sauvignon and Merlot for reds. The "Mont" on which the estate sits, provides 360-degree exposure, creating a wide variety of microclimates for maturation of the various varieties.
Originally from the 14th-century, the farmhouse that houses the cellar is located in the heart of Penedès, 220 meters above sea level. With the floor plan of a basilica, brickwood has been used to frame the windows and divide the lines of the floor, giving the house a unique character. It was modified at the end of the 19th-century to become a convent of the order of the "Barefoot Carmelites," yet still retains the charm of the original structure. The recent excavation has expanded the Cava aging and bottling capacity, at the same time revealing medieval underground passageways in the chalk, which have been carefully preserved for additional bottle storage.