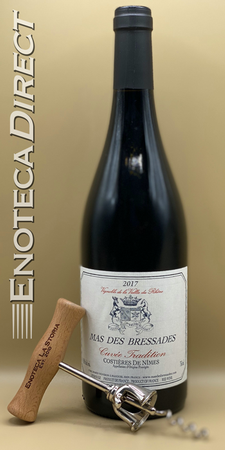 2017 Mas de Bressades Rouge 'Cuvée Tradition'
Costières de Nîmes, France
We were all blown away when David Netzer from the Wine House SF showed us these Mas de Bressades wines. This is one of the tastiest wines and best values I've tasted in a LONG time. The Grenache/Syrah blend comes from organic and sustainably farmed vineyards in the Costières de Nîmes, the southernmost wine region in the Rhône (although it formerly was a part of the Languedoc). With a bold nose of dusty, plummy fruit with a hint of coffee and baking spice, its a pretty serious wine, especially for the price. My first tasting notes are word for word "wow..... really nice. Juicy, mouth filling, tangy, bright but dark, same dusty plum fruits as the nose, with some serious structure." I gave it three and a half exclamation points (out of five), and then David told us the price, and I added two more. ~Ryan Smith, Enoteca Direct
60% Grenache and 40% Syrah from Mas de Bressades's 45 hectares of sustainably farmed vineyards in the Costières de Nîmes, the southernmost wine region in the Rhône (although it formerly was a part of the Languedoc). The region boasts millenia of grapegrowing history and is generally acknowledged to be on the oldest growing regions in the world- even the Ancient Greeks sang its praises! Initial whiffs of smoke and earth blow off to reveal bright red plum and bramble aromas here. Its fresh and ripe blackcurrant nose is marked by spices. Its beautiful length brings with it bewitching aromas of garrigue and reveals very sweet tannins. Powerful and pure in the mouth with a very elegant, fruity palate which has good length. You can drink it now and it will also surprise you if you forget it for a few years in your cellar.
Founded in 1960, Mas de Bressades stretches across 45 hectares of vineyards in the gentle rolling hills north of Camargue. The vineyards are planted at about 200' elevation in nutrient poor soil that naturally fills with scrub sage & rosemary. The name "Bressades" comes from a Provençal phrase meaning "to rock," as the estate is often subject to the intensity of the Mistral wind. The vineyards were certified organic in 2017. Winemaker Cyril Marès comes from a long winemaking tradition; his grandfather, Henri, was a friend of Louis Pasteur and discovered the modern treatment for powdery mildew, a common vineyard ailment. His greatgrandfather was a wine merchant and greatgreatgrandfather owned vineyards near Montpelier. Before moving back to the family domaine, Cyril made wine at our own Chalone Winery, as well at Bruno Prats in Chile and Paul Pontallier in Bordeaux.
91 points, Wine Enthusiast. "Intense, primary aromas of crème de cassis and fresh green herbs perfume this juicy, voluminous red. A blend of 60% Grenache and 40% Syrah, it's a plummy crowd pleaser balanced by a bold, mineral finish. Tannins are quite firm now but should meld nicely through 2027."