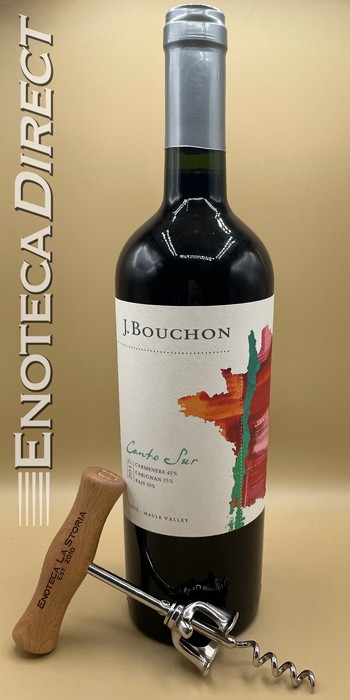 2017 J. Bouchon 'Canto Sur' Red Blend
Maule Valley, Chile
Canto Sur is a tribute to the Bouchon family's new roots in Chile. It is 45% Carmenere, 25% Carignan, 30% Pais sourced from the dry farmed Mingre Vineyard in the Maule Valley, which has a dry, coastal climate. The País vines are over 100 years old. The wine is aged in concrete tanks for 4 months. Only 1500 cases were imported to the United States.
Tasting Notes
Aromas of Mediterranean herbs, smoke and red fruit on the nose lead to great acidity and juiciness on the palate. There's a bit of classic Chilean pepperiness, but it's pleasant and not overdone. Rich and smooth on the palate. Finish is lively and the perfect balance of freshness and rusticity. Enjoy with steak, barbeque (even spicier BBQ preparations), and aged cheeses. At 13.5% alcohol, this is very food friendly.
About J. Bouchon
Bouchon Family Wines began in the late 19th century when young viticulturist Emile Bouchon left Bordeaux, France for Chile. Today, Julio Bouchon and his children carry on their 4th generation family winemaking tradition in the Maule Valley. With their in-depth soil research and innovative winemaking, Bouchon is preserving the historic character of the Maule Valley with distinctive, terroir-driven wines.
Maule is the Central Valley's most southern and coolest zone, reaching a southern latitude of 35°S, yet it is still warmer and drier than Bío-Bío to its south. The Maule Valley enjoys success with a unique set of grapes.
It lays claim to the local variety, Pais (synonymous with Tinta Pais, which is actually Tempranillo), which has dominated much of the region's area under vine until the recent past.