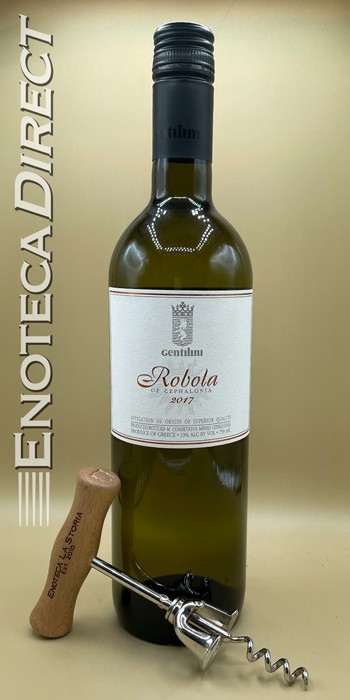 2019 Gentilini Robola of Cephalonia
Cephalonia, Greece
Made entirely from Robola of Kefalonia, an increasingly rare, ungrafted, noble grape variety. The grapes are sourced from high-altitude, extremely low yielding vineyards within the PDO zone. Quantities are limited to 30,000 bottles each year. A fresh, vivacious, crisp white wine, which expresses all the mineral and citrus characteristics of this unique variety.
91 points, Wine Spectator. "The 2017 Robola is unoaked and comes in at 13% alcohol. As much fun as the Notes White is, this is a different style and class. For one thing, the aromatics are a lot more neutral-none of that green, grassy and vegetal. More importantly, this just has more concentration and structure. It has a tightly wound demeanor, finishing with grip and tension. The Gentilini Robolas are always graceful, always elegant, yet they never lack for substance and power. Somehow, this manages to fill the mouth. Then the acidity slams the fruit into the palate. It may seem lighter-style-and it is, in a way-but it lacks for nothing in the final analysis. Under screwcap these days, they may age better than we think and are accustomed to, but don't hesitate to drink it young so you can revel in its energy. We'll see how it ages, but it is worth leaning up just now. There were 27,000 bottles produced."

91 points, Robert Parker's Wine Advocate. "The 2017 Robola is unoaked and comes in at 13% alcohol. When last seen, it was in good form but with a bit of a reductive nuance. That seems less important today, although this is by no means quite as pure as the 2016. Give this some air before drinking it. That increasingly modest issue aside, in most respects this 2017 is a step up on the 2016. It is richer than the 2016 and more expressive. It retains fine energy and tension on the finish. It seems increasingly likely to age well and better than I've given the regular brand credit for in the past. Overall, this is rather sumptuous for Robola. It should continue to improve, separating itself from the 2016 over the next year or two. Today, there are pros and cons. The 2016 is purer, as noted, and more complex. The 2016 probably drinks better right now. The price of this library wine merely references the cost of current releases."