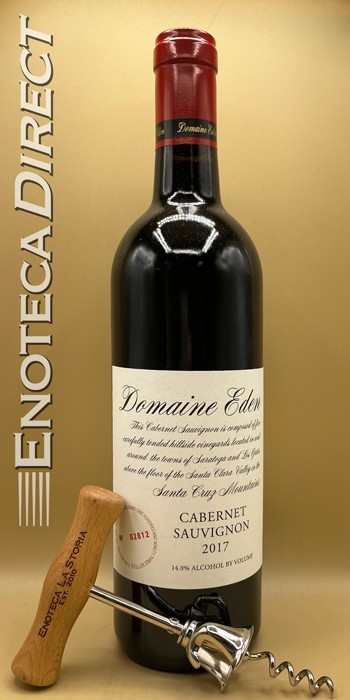 2017 Domaine Eden Cabernet Sauvignon
Santa Cruz Mountains, California
One of the best values in California Cabernet out there! The blend is 82% Cabernet Sauvignon, 11% Merlot, 4% Cabernet Franc, 2% Petit Verdot, and 1% Malbec. The Domaine Eden Cabernet program is a combination of Bordeaux varieties, mainly Cabernet Sauvignon from Mount Eden, Domaine Eden and three exquisite sites in Saratoga and Los Gatos. It is a true Bordeaux blend encompassing the top five Bordeaux grapes varieties: Cabernet Sauvignon, Cabernet Franc and Merlot with small additions of Petit Verdot and Malbec. The Mount Eden parameters of low yields, maximum maturity and cool climate viticulture are used to achieve balanced ripeness. The lots are fermented separately using natural fermentations and French oak. Aging this wine to maturity for two years, no fining or filtration is conducted prior to bottling, just like the Estate regimen. The ultimate goal is a classic Santa Cruz Mountain Cabernet reflecting Domaine Eden's mid-appellation region. Complex, given the five varieties in the cepage, this Cabernet has aromas of briary currant, sage, mint and sweet oak. Less tannins and acidity on the palate than is evident in the Estate, there is an earlier window of enjoyable drinking.
Domaine Eden is a mountaintop wine estate purchased by Mount Eden Vineyards in 2007. Modeled after Mount Eden, it was founded and built by the late Tom Mudd in 1983, who initially planted the Mount Eden clonal selections of Chardonnay and Cabernet Sauvignon, which evolved to include Pinot Noir from various Dijon and California selections. This is the former home of Cinnabar Winery.
This property inspired a new wine brand, Domaine Eden, which focuses on Pinot Noir and Chardonnay from this special site and Bordeaux varieties from Mount Eden's larger home, the Santa Cruz Mountains.
94 points, Antonio Galloni's Vinous. "The 2017 Cabernet Sauvignon is fabulous. A rush of floral and spice notes leads into a core of racy purplish fruit. Lavender, sage, mint and a whole range of savory Cabernet aromatics play off the natural richness of the year so well. The 2017 is a blend of Cabernet Sauvignon from Domaine Eden plus non-estate vineyards in Los Gatos and Saratoga, along with Merlot and Cabernet Franc from Mount Eden. That blend works so well. I loved it for its power and density. More importantly, the 2017 is a huge overachiever and a screaming value."