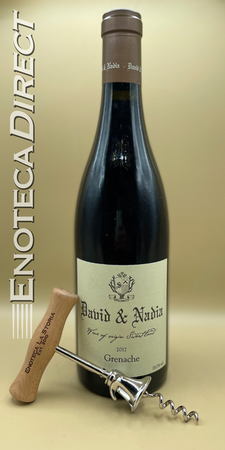 2018 David & Nadia Sadie Grenache
Swartland, South Africa
100% Grenache. One Paardeberg sustainably farmed vineyard planted in the early 2000's is responsible for the core of this wine, blended with a similarly aged organically certified vineyard planted in deep rich clay soils, north of Malmesbury. Four weeks on the skins during fermentation, 60% whole bunches, one punch down per day, minimum and gentle extraction. Pressed off and matured in old 500L neutral French oak barrels for a year.
Tasting Notes & Story
Has a clean and pure nose that has floral overtones, dried rose petals infusing the transparent red cherry and bergamot scents. The palate is tensile on the entry with brisk red cherries and bitter lemon, full of tension and zest with an almost linear, very focused finish.
Okay, so here I am with another one of my personal campaigns, like rosé, Lambrusco, Riesling, Greek wines, and now South Africa. I love these wines! They offer a wonderful balance between "old" and "new" world styles and a wide range of varietals. I recently tasted this wine and was SO impressed by it that I immediately earmarked it for a club. As Nick Dazzi, my VPUP partner in crime will tell you, we both think that Grenache can make wines that are immensely intriguing, both in the nose and on the palate. I think this wine shows that. It's aromatic, pure and fresh. It showcases what creative and talented winemaking can do with this grape. The percentage of whole cluster fermentation adds complexity and intrigue. I was so taken with this wine that I not only put it into a club, but brought it into our new retail shop – as a wonderful example of what South Africa can offer. If it wasn't for the ultra-unique and special character of its partner wine, I would not have hesitated to put it into this month's tasting kit. It pains me NOT to be tasting this wine with you and the other club members…Keep your eye on this talented husband & wife winemaking team…It's an embarrassment of riches! ~ Mike Guerra


Winery Background
David and Nadia Sadie met at the University of Stellenbosch when he shifted his focus to viticulture after a rugby injury sidelined him from his first love. David went on to work vintages around the world, from Marlborough to St. Emilion, before finally landing back in South Africa. He eventually took over the cellar in the Swartland where Andrea and Chris Mullineux used to make wine prior to their purchase of Roundstone Farm and restored it in 2014. His wife Nadia joined him in 2016 and it's been a family affair ever since. Nadia oversees viticulture for their project and manages the vineyards that they lease. She employs biological farming, which is to say she avoids the use of any herbicides, plants cover crops and she's begun experimenting with a conversion to organics. Together, David & Nadia make high acid, textured wines that have cemented them as one of the most highly regarded wineries in the Swartland.
Reviews/Ratings/Accolades
"On of a handful of Grenaches that are finally establishing the variety's claim to greatness in the Cape, this comes from the Paardeberg and Malmesbury. Pale and graceful, with restrained alcohol, some whole bunch spice and fine-grained tannins. Brilliant winemaking." 95 Points – Tim Atkin, MW