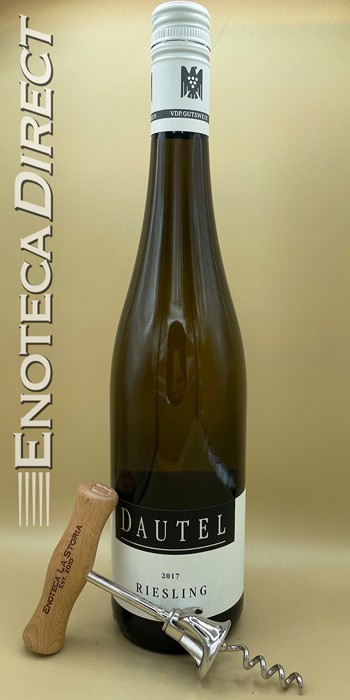 2017 Dautel Estate Riesling Trocken
Württemberg, Germany
100% Riesling from Württemberg done in a dry (trocken) style. This wine seriously over delivers -- ripe and fruity but balanced perfectly with minerality and freshness! Concentrated and rich, this will be great with food or on its' own.
No destemming, crushed and pressed, with some skin contact. Naturally fermented in stainless steel and in steel on the full lees for 5-6 months before racking and bottling. 50% from Bönnigheimer Sonnenberg – a section of the hill with reed sandstone soils and 50% from Katzenohrle.
Tasting Notes: This has all the hallmarks of classic riesling. Very expressive on the nose with ripe stone fruits, Meyer lemon, white flowers, and a light smoky minerality. The palate is concentrated with flavors of fresh peach, limestone, and citrus pith. The long, dry finish balances the ripe fruit flavors perfectly leaving no doubt that this is well-crafted riesling.
About Dautel: Christian Dautel is only the second generation at his family winery to estate bottle wines in Württemberg. While the family history for grape growing goes back 500 years, most growers in this region sent their fruit to the co-op. Christian's father Ernst was one of the first in this region to start bottling wines, leading with Spätburgunder (Pinot Noir), Lemberger (Blaufränkisch), Weissburgunder (Pinot Blanc) and Riesling. Today, Christian follows his father in the cellar and after stints in Burgundy and Oregon, Christian is making some of the best wines in the region.
Christian farms four Grand Cru (Grosse Lage) sites and and two 1er Cru (Erste Lage) sites. His goal is to continue to bring out the specific character of each terroir without losing the inherent flavor of the grape variety planted to each vineyard. Wines are not made by formula, but by taking in to account the feeling for each site and variety.