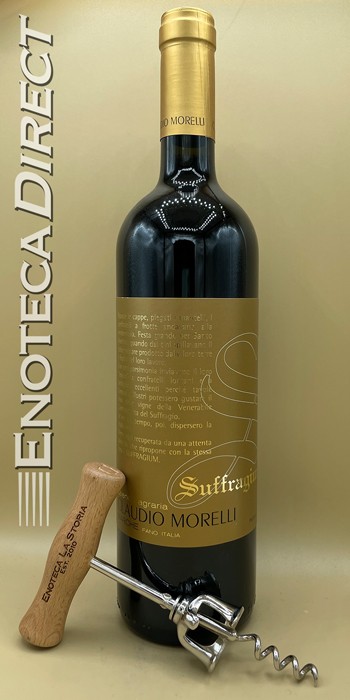 2017 Claudio Morelli "Suffragium" Marche IGT Rosso
Le Marche, Italy
100% Aleatico, in this area referred to as Vernaccia Rossa, is a semi-aromatic red wine variety. 'Among the wine world's most undervalued treasures, wines made with Aleatico can demonstrate a thrilling combination of raciness and richness. Aleatico is a delicious, lightly aromatic red that will have you thinking of black muscat wine.'
This example is from a single vineyard near the Adriatic coast, at around 100 meters above sea level. The soil is tuff (limestone) and sand, the vines were planted in the 1970s. The grapes are harvested at the end of August or the beginning of September, de-stemmed and crushed, then fermented in stainless steel tanks. Total maceration time is about 2 weeks, then the wine is pressed off the skins and aged in stainless steel for 12 months.
Tasting Notes: Aromatic, rose petaly nose with a core of lovely raspberry fruit, and some savory notes as well. All on a medium bodied frame with plush tannins and a nice streak of acidity. Pairs great with soups, poultry, even richer fish dishes. And a great wine with cheese!
About Claudio Morelli: Claudio Morelli is a wine-grower in the little coast town of Fano, south of Pesaro, in the Marche. The Morelli family farm goes back generations and traditionally produced not just wine grapes but olives and other fruits and vegetables. In the 1950s, the focus shifted almost exclusively to wine and olive oil, and today Claudio Morelli farms 22 hectares of vineyards and 400 olive trees. Bianchello/Biancame, which is thought to be a branch of Italy's vast Trebbiano family, is Morelli's main preoccupation, although he grows Sangiovese, Montepulciano, and several other red grapes as well. The soils in the area are a mix of hard volcanic tuff and sand, and the proximity of the vineyards to the Adriatic provides ample ventilation, allowing for extended hang time of the grapes.