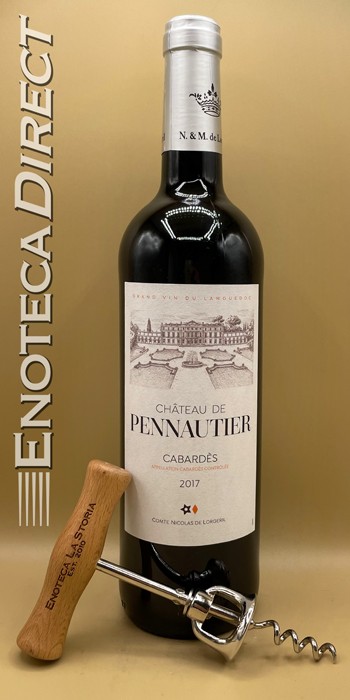 2017 Ch. de Pennautier Cabardès Rouge
Languedoc, France
Cabardès is the most western appellation of Languedoc and has vineyards on both sides of the ridge that separates rivers flowing east to the Mediterranean and west to the Atlantic. With its location, the local appellation rules are that both "Bordeaux" varietals and "Southern France" varietals are to be used in the blends. The 2017 Vintage of the "Classique" contains 20% each of Grenache, Syrah, Cabernet Sauvignon, Merlot, and Malbec.
Aromas include dark cherries, dark plums, cocoa, ripe strawberries, and hints of smoky grilled meats. Flavors include ripe strawberries plums, ripe yellow peaches, and nectarines complemented by perfect tannins. There is a medium to full body, good balance, perfect acidity, and a refreshing and memorable finish.
Food pairings would include Filet Mignon, New York Steak, lamb chops, rack of lamb, pork chops, BBQ ribs, grilled chicken, coq au vin, salmon, swordfish, shrimp, grilled tuna, seafood stews, mussels, Asian Chicken and Pork dishes, and Mexican chicken dishes.
The Lorgeril's have been a prominent wine producing family in the Languedoc since 1620. Now under the leadership of Nicolas de Lorgeril, the family's careful development of their estates in Languedoc and Roussillon have resulted producing wines from six premier regions within Languedoc.
With their long heritage in the region, the family has also been careful stewards of their various terroirs through sustainable agriculture and observing organic principles as far as possible in region that does have its challenges during the growing season. The careful stewardship has been recognized with the awarding of HVE Level 3 certification (Haute Valeur Environnementale) which has high standards for biodiversity conservation, plant protection strategy, management of fertilizer use, and management of water.