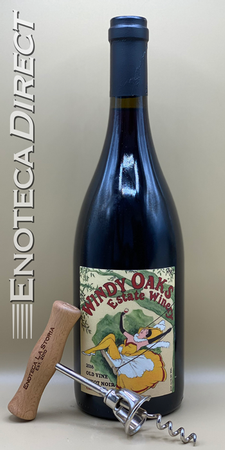 2016 Windy Oaks Pinot Noir Chalone 'Old Vines'
Chalone, California
100% Pinot Noir sourced from vines planted in the 1980s by Dick Graff himself; mostly from Antle Vineyard but a bit from Chalone Vineyard as well. As is typical for Pinots from Chalone AVA, there is a distinctive earthy and savory quality to this wine, along with serious structure from the limestone rich, nutrient poor soil, extreme elevation and large diurnal temperature swings. Medium to medium full bodied, pair this wine with a savory lamb dish.
Windy Oaks was founded in 1996 by Jim and Judy Schultze, when they returned to California after living overseas for 7 years in Australia and Europe. On a windy ridge in Corralitos, overlooking Monterey Bay, they planted their first three acres and produced their first vintage of Pinot Noir in 1999. Today, they farm almost 30 acres of Pinot Noir, Chardonnay, and Syrah.
94 points, PinotFile. "Moderately light garnet color in the glass. Very sexy nose brimming with wondrous aromas of spiced cherry, earthy flora and flowery underbrush. The beautifully ripened cherry core is annotated with notes of spice, cola, mushroom and savory herbs. Impressive harmony, with refined tannins, an expansive mid palate and like the energizer bunny, the finish kept going and going."