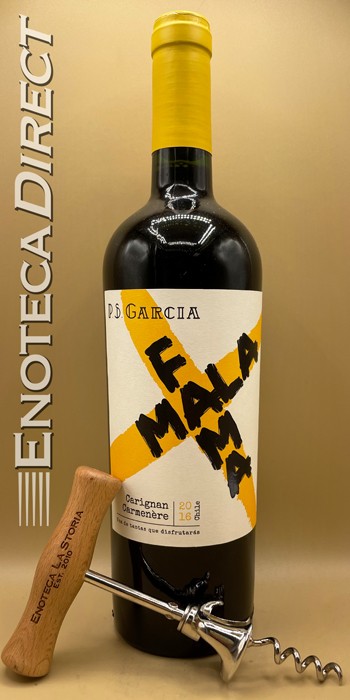 2016 P.S. Garcia 'Malafama' Red Blend
Maule Valley, Chile
85% Carignan and 15% Carmenere, farmed sustainably. Aged for 24 months in French oak. The Carignan that goes into this wine comes from vines planted in 1958, dry-farmed, bush-trained near Melozal. All of these characteristics provide us great acidity, high concentration and great tannins. The Carmenère comes from Piedra Lisa Vineyard of the historic Itata Valley, providing silky tannins, low acidity and deep dark color.
Tasting Notes
This is fresh, rustic, captivating stuff showing spicy cracked black pepper, vivid acidity, and tangy notes of pomegranate, hibiscus tea, and sour cherry pie.
About P.S. Garcia
Felipe started PS Garcia in 2006. After working for larger wineries, he made his first independent wine as a declaration of what he considers true "Chilean" wine. Inspired at first by old-vine Carignan from Maule, he since have started two of Chile's most influential small producer movements today: MOVI (Movement of Independent Vintners) and VIGNO (Vignadores de Carignan).
In early 2006, Felipe and Connie gained the confidence they needed to identify the vineyards and the fruit that fit the style of wine we wanted to make. They decided to dive headfirst into the project. When their employers gave them the choice of abandoning their project and their dreams or leaving their stable jobs, they chose the road less traveled. In 2009, they took their passions a step further by forming a group with other like-minded small wineries in Chile called MOVI: Movimiento de Viñateros Independientes (Movement of Independent Vintners).
Connie studied Agricultural Engineering at the Catholic University of Valparaíso with a post-graduate specialization in Enology from the University of Chile. She served as the winemaker for Viña Agustinos from 2001 to 2009 and Viña Veranda from 2003 to 2009.
Felipe studied Agricultural Engineering and Enology at the University of Chile. He served as winemaker for Viña Calina from 2000 to 2006, and then took over as winemaker for Viña Casas del Bosque from 2006 to 2009.