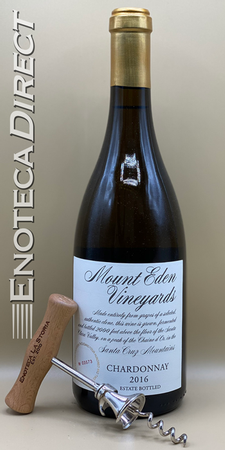 2016 Mount Eden Estate Chardonnay
Santa Cruz Mountains, California
These local legends are among our favorite wineries in California, if not the world. Located high in the hills above Saratoga on a incredibly beautiful and historic estate, winemaker Jeffrey Patterson and his family create small lots of Pinot Noir, Chardonnay, and Cabernet Sauvignon that are not only ageworthy and high scoring, but just plain delicious. The Chardonnays are unusual, extraordinary, and intoxicating in both aroma and flavor. Salted yellow apple skin, oily citrus fruit, white flowers and pleasant earthiness are all wrapped up in a tightly wound structure that manages to be mouthfilling and lean at the same time. Lots of lees contact, barrel fermentation, full malolactic fermentation and lots of oak (half new and half one year) contribute to incredible richness, but the moderate alcohol (13.5%) and zinging acidity keep it mouthwatering and refreshing. Seriously on the my favorite wines ever, and this is another great vintage. As usual with Mt. Eden, a joy to drink already but will only get better. ~Ryan Smith, Enoteca Direct
From the winemaker: "We always emphasize longevity when talking about our Estate Chardonnays. Mount Eden's wine "Library" goes back to the inaugural 1972 vintage—the first vintage as Mount Eden Vineyards when the partners at the time took over from our founder, Martin Ray. There have been many surprisingly long- lived chardonnay vintages from this mountaintop: 1973, 1976, 1982, 1984, 1987 and more. So, from experience, we know our vines can deliver. The signature here is elegance and class: A small crop of 1.5 tons per acre aided in this result. Totally barrel fermented in French Burgundian Oak, this Chardonnay is aged in our cave for ten months on the lees and lightly filtered before bottling. Delicate yet persistent aromas of citrus fruit and honeysuckle combine with an "old world" touch of earth. On the palate, the flavors are expansive with energetic and tense citrus fruit and minerality. This 2016 is reminiscent of the 2012 with its classic restraint yet with a deep core of acid-laden fruit. Expect full development by 2022 and a long life thereafter.
94 points, Wine Enthusiast.
"The nose on this bottling blends savory depth with floral lightness, combining sandalwood, seared Meyer lemon peels, butterscotch, hot sandstone and flashes of honeysuckle on the nose. Sea salt and nectarine lead toward marshmallow and wood in the finish, wrapped in a structure that's firm but seamless."

93 points, Antonio Galloni's Vinous.
"The 2016 Chardonnay is a very pretty wine. Tangerine peel, tropical overtones, mint and butter notes give the 2016 a decidedly extroverted feel in terms of its flavor profile, and yet the wine remains a bit compact in its overall feel. In 2016, the fruit was brought in entirely in August, which is historically on the early side. The 2016 will drink nicely with minimal cellaring, although time in bottle should help the mid-palate flesh out a bit more."

Wine Specs
Appellation
Santa Cruz Mountains