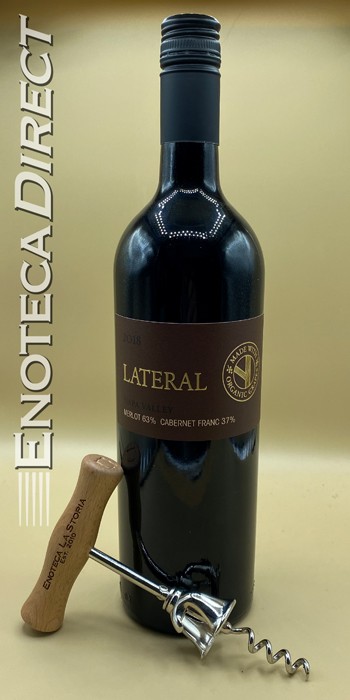 2018 Lateral Red Wine
Napa Valley, California
Lateral has been an absolute favorite wine of ours since we opened in 2010.
This is produced by local legend, Kathryn Kennedy winemaker Marty Mathis. 67% Merlot, 33% Cabernet Franc. Here are his tasting notes:
"We are excited to release this new vintage for a few reasons; the excellence of 2018 grapes and the resulting wine quality foremost but also as the 30th bottling for this proprietary brand and in addition this will be the first to be packaged under screw cap. Screw caps will allow us to carry the 3 decades tradition of consistency right into your hand with every single bottle.
Savory, gentle aromas that carry sweet oak, light herbs and complex ripe fruit aromas in keeping with its right bank Bordeaux model. Powdered dark chocolate, soft purple plums and vanilla oak aromas swirl around in the controlled and inviting nose.
Fresh, clean and powerful flavors center on sweet oak and roasted fruit. Bright berry flavors are carried along by pleasant fine tannins very much in balance for early drinking. This vintage is never ponderous but instead ideally structured in a classic European style meant to accompany food.
Knowing these wines well allows me to predict 3-5 years of sublime everyday drinking pleasure very much what LATERAL has become known for. A real winner!"- Marty Mathis