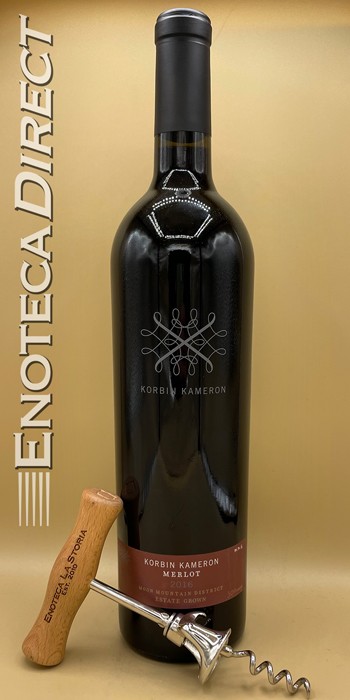 2016 Korbin Kameron Merlot 'Moon Mountain'
Sonoma, California
100% Merlot from the Moon Mountain District in Sonoma County. The wine was aged for 18 months in 100% French oak, 50% new. Only 325 cases produced.
One of the few AVAs in the Mayacamas mountain range—which divides Sonoma County from the Napa Valley—the Moon Mountain District inhabits the eastern hills of the central Sonoma Valley AVA, directly opposite the east-facing Sonoma Mountain AVA.
The Moon Mountain District's vineyards generally face southwest, receiving ample exposure not only to afternoon sun, but also crosswinds from the Pacific Ocean and San Pablo Bay. At elevations ranging from 200 to 2,200 feet above sea level, vines here grow in a variety of soils, mainly rocky and of volcanic origin, on slopes and ridge tops of the Mayacamas Mountains.
Though only designated an AVA in 2013—with only 1,500 of its 17,663 acres planted to grapevines—the Moon Mountain District contains one of Sonoma County's oldest and most prestigious vineyards.
The name Moon Mountain is inspired by Sonoma Valley's famous "Valley of the Moon" nickname - which comes from Native American lore, inspired Jack London's famous writing and continues to inspire us here, today, as the full moon rises over vines.
Korbin Kameron Vineyards is a family endeavor. Mitchell Ming, his wife Jenny, and children, Kristin, Korbin and Kameron all work in the operation. The vineyard, a 19-acre estate, sits amidst an 180-acre property is located at the peak of the Sonoma side of Mount Veeder, in the Sonoma Mountain AVA. The spectacular high altitude vineyard site is managed by Javier Renteria. Javier has 36 years of experience working in California vineyards, starting his carreer at Sterling vineyards.
Korbin Kameron's small production wines are crafted from the fundamentals of: high quality stemming from low yielding vines on their estate vineyard; farming with holistic organic practices to nurture unparalleled fruit that truly expresses and celebrates the land; and achieving vibrant wines with elegant personalities both in and out of the bottle.