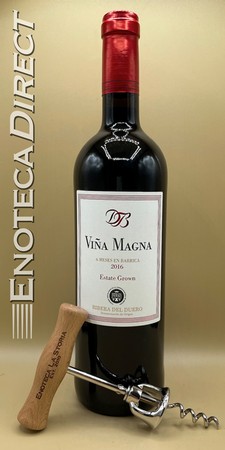 2016 Dominio Basconcillos Viña Magna
Ribera del Duero, Spain
I love's me my Tempranillo – and, at THIS price? This is one of the best "bang for the buck" ones I've come across in a LONG while. It's got a nice core of dark, ripe fruit, that telltale hit of smoke, notes of dried flowers, herbs, spice and a hint of vanilla. It's beautifully balanced, with refreshing acidity and silky tannins.
I foresee me drinking this with some grilled Tri Tip (with a coffee rub, a la Greg Lindahl) and some take out from Adelita's in the near future…and I will revel in my good fortune! We all gotta count our blessings these days, no? This will also pair well with some of Joey's beef jerky!! Sigh…so many wines, so little time…. ~Mike Guerra, Enoteca Direct
Winery Background
In the late 1990s Burgos native José María Basconcillos sought virgin land in Ribera del Duero to accentuate the region's continental climatic extremes and to provide the perfect conditions for organic viticulture. He found it in a private hunting property of 125 acres near Gumiel de Izán at the northernmost extreme of the appellation and at an elevation of over 3,300 feet.
Leveraging the location of earliest monastic vineyards in the area, Dominio Basconcillos represents a return to the high slopes. Using cuttings from ungrafted vines in the nearby winegrowing communities, indigenous Tinta del País (Tempranillo) clones were obtained for in-field grafting in 2001. Viticulture is 100% organic.
The state-of-the-art bodega, located among the vines, is efficiently designed to obtain maximum quality. Grapes are hand-harvested and delivered in small crates, destemmed, and sorted THREE times before being gravity-fed as whole berries into tank. Bordeaux-trained native enologist Francisco Barona seeks concentration with maximum freshness and balance, taking advantage of the high elevation, low-pH fruit to conduct patient and natural winemaking. The wines are aged in primarily French oak for the time required according to wine and vintage.
Wine
100% organically-farmed Tinta del País (Tempranillo) from high elevation. Vines are 18 years old. Fruit is hand-harvested. Juice is fermented using native yeasts in temperature-controlled stainless-steel tanks. Wine is aged for 6 months in French oak, some new.
Tasting Notes
Ruby robe, trimmed by excellent violet tones. Clean and bright. The fine and intense aromas of Tempranillo are the first to show, with hints of red fruit, raspberry, currant accompanied by elegant toasty aromas. Hints of cocoa and roasted coffee. A creamy finish makes it even more complex if possible. Powerful and meaty with an excellent bouquet that remains on post nasal. Wide and silky tannin. A fresh wine, mineral with great balance.
Wine Specs
Appellation
Ribera Del Duero