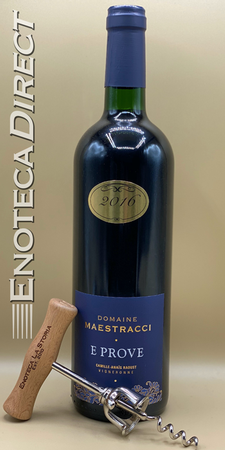 2016 Domaine Maestracci 'E Prove' Rouge
Corsica, France
On Corsica, high in the foothills of Monte Grossu mountain, inland from Calvi, lies the granite plateau of Reginu, an area long known for U Vinu di E Prove – the wine of the Prove. in the early 1980's, Roger Maestracci passed along the reins of the domaine to his son-in-law, Michel Raoust, who has since handed over the winemaking and winery management to his daughter, Camille-Anaïs Raoust. The wines Camille makes are quintessential Mediterranean food wines.
35% Niellucciu, 35% Grenache, 15% Sciaccarellu, 15% Syrah. 25-40 year-old vines. Grapes are handpicked. Wine is fermented and then aged 1 year in steel, then aged another year in large, used foudres.
Juicy, ripe cassis and blackberry are shadowed in the nose by their high-toned counterparts, along with lavender, rosemary, and game. The tang of berry skin; crunch of seeds; piquant glow of resinous herbs; sweet pungency of smoked meat; and maritime salinity, all combine for an effect of delightfully invigorating and mouthwateringly saline persistence. A unique wine - and an amazing value!