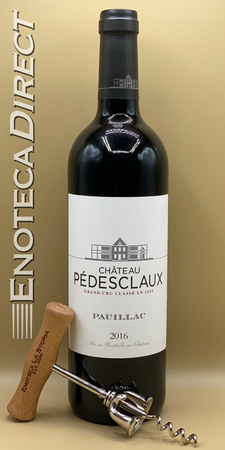 2016 Château Pédesclaux Pauillac
Bordeaux, France
The Château was founded in 1810 by winebroker Pierre Urbain Pédesclaux, who operated it with his wife until 1891, when the estate was sold to the Count de Gastebois. In 1930, Lucien Jugla became tenant, and eventually purchased the Château in 1950. In 2009, the estate was purchased by Jacky Lorenzetti, who also owns Chateau Lilian Ladouys in Saint-Estèphe and 50% of Château d'Issan in Margaux. Lorenzetti enlarged the vineyards with the purchase of 12 hectares of Medoc vines that are situated next to parcels owned by Chateau Lafite Rothschild and Chateau Mouton Rothschild. The vineyard covers an area of 46 hectares and produces about 8,000 cases of wine every year. The Château has 44 hectares in Pauillac, but also two hectares in the Haut-Médoc area. Wines from Pédesclaux are composed of 48% Cabernet Sauvignon, 45% Merlot, 3% Petit Verdot and 4% Cabernet Franc and aged in oak barrels for 15 months (30% New).
95 points, James Suckling.
"So aromatic with crushed currants, raspberries and blackberries with hints of graphite and lead pencil. Full-bodied and very tight with beautiful tannins and a long, flavorful finish. The tannins really build at the end of the palate. Try from 2024."
94 points, Decanter.
"A property that has been benefitting from new investment in the form of additional, better quality plots and a new cellar that allows far greater precision - I know everyone says this, but in this case they moved from large, old wooden vats to an array of shapes and sizes. Once again in this vintage you see the results of investment, and we have an utterly delicious Pédesclaux on our hands. Well structured, it has walls but the juice runs down them like in a perfectly filtered underground cavern. Once again it is the stunningly juicy fruit that impresses on the finish, giving a mouthwatering freshness. The blend is 48% Cabernet Sauvignon, 45% Merlot, 4% Petit Verdot and 3% Cabernet Franc - the first vintage in the history of the estate to have all four varieties now that the new plantings have come through. Lots of small berries mean the yield is around 10% up on 2015, to 55hl/ha, without sacrificing concentration. In fact it has more race and concentration than last year, and with a tannin count of 82IPT and 12.5% press wine the apparent delicacy is impressive. 50% new oak, 3.61pH. Get on board with this wine."