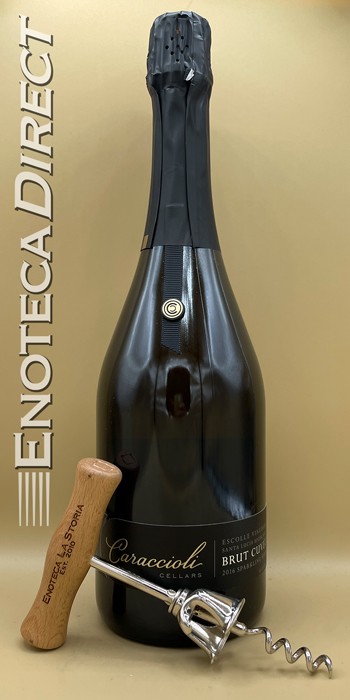 2016 Caraccioli Brut Cuvée
Santa Lucia Highlands, California
Composed of 60% Chardonnay and 40% Pinot Noir all grown on Caraccioli's family estate, the Escolle Vineyard in the cold, windswept northern section of the Santa Lucia Highlands. The cuvée begins fermentation in stainless steel tanks utilizing a specific yeast strain chosen specifically for our sparkling project. 20% of the wines finish primary fermentation in neutral French oak barrels, while the remaining 80% undergo similar oak aging once the primary fermentation is complete. The total time on oak is approximately two months. Due to the extremely low pH, the wines never undergo malolactic fermentation 872 cases were made.
About Caraccioli Estate
Caraccioli is easily one of the best sparkling wine producers in the USA. This is no joke- and they're certainly one of our favorites. As of 2015 their estate Escolle Vineyard Pinot Noir and Chardonnay comprise 100% of Caraccioli Cellars total production. 2016 is the second vintage the sparkling cuvée transitioned to completely estate fruit. All grapes are hand harvested into small totes, disallowing any premature crush prior to press and preventing oxidation. Escolle is sustainably certied (SIP) and utilizes minimal intervention practices throughout the vineyard. No herbicides are used on Escolle, as all weeds are removed manually with either a weed knife or by hand. Minimal to no irrigation is utilized unless an extreme vintage takes place. A healthy cover crop is established to minimize any erosion and aids in ideal canopy vigor. Go visit their tasting room in Carmel Valley!
92 points, Wine Enthusiast. "There's an alkaline streak to the nose of this bottling, which shows citrus pith and crushed white rocks on the nose. A toasty hint of yeast comes through on the palate, which is also loaded with crisp flavors of green apple and warmer almond tones."