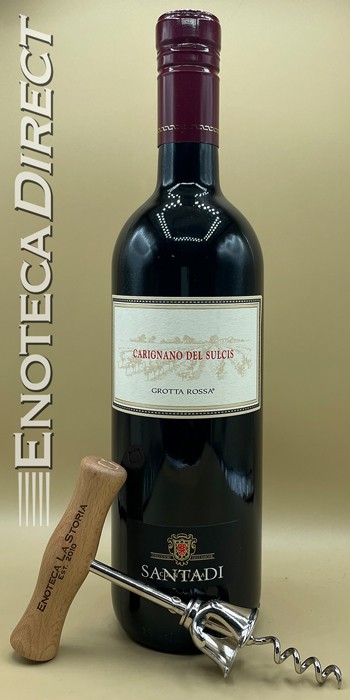 2016 Cantine Santadi 'Grotta Rossa' Carignano del Sulcis
Sardinia, Italy
Taste the Mediterranean sun in a glass! 100% Carigano (Carignan). Fermented in temperature-controlled stainless steel. Aged 3 months in concrete and another 3 months in bottle before release.
Tasting Notes: Presents an intense display of crushed raspberries and allspice balanced by savory notes of wild herbs and flowery undergrowth. It's soft in texture yet juicy, with espresso-tinged black fruits and hints of dark chocolate. This tapers off to freshness yet still maintains a mocha-cocoa note, along with a trace of tobacco.
Winery Notes: This celebrated winery takes its name from the medieval town of Santadi, in the Sulcis peninsula of southwest Sardinia. In 1976, Santadi partners elected Antonello Pilloni as their president. It was a good choice as Pilloni succeeded in bringing Santadi to international prominence and remains at the helm today. In the early 1980s, he called on Giacomo Tachis, creator of Sassicaia and "the man behind Italian wine's worldwide Renaissance," as a consultant. President Pilloni now works with general manager Raffaele Cani, and winemakers Andrés García-Blas and Umberto Trombelli. The Santadi vineyards cover an impressive 500 hectares (1,235 acres) of prime, gently rolling terrain reaching right out to the sea.