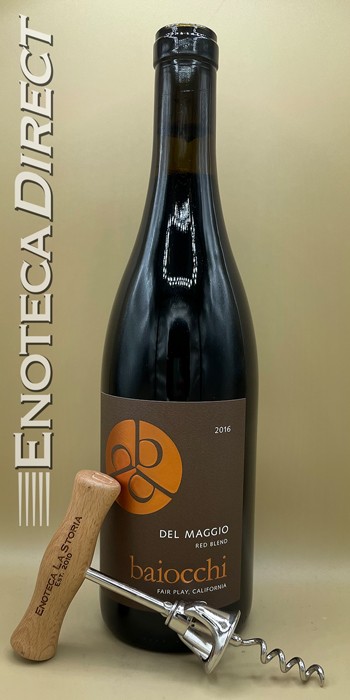 2016 Baiocchi "Del Maggio" Red
El Dorado County, California
74% Grenache 26% Syrah. Aged 24 months in 100% French Oak (20% new).
Strawberry and plum aroma lift from the ruby color with nice clarity and depth. Mid weight with rich texture and ripe fruit, the wine finishes well with nice fine tannins.
About Baiocchi Wines
They say genetic traits can skip generations. Greg Baiocchi would argue that passions can skip generations well. This was the case for Greg's father, who grew up watching his father, Maggio Baiocchi, make wine. While the smell alone was enough to dissuade Greg's dad from following in his father's footsteps, it was not enough to keep Greg from doing so. As a boy of five or six, Greg remembers watching his grandfather in his basement, working the old equipment. The sights, sounds and smells of watching him make wine are still vividly alive for Greg Baiocchi today.
Baiocchi Wines' first vintage was 2009. Greg Baiocchi is the winemaker and his wife Sharon tends to the business and PR end of the winery. In Fair Play, the Baiocchis have 12 acres which they farm sustainably. Baiocchi is a small-production winery with an annual production of 1300 cases of wine a year. There are actually two labels, the Baiocchi label and the GB label. The latter label includes wines that are more affordable, with less oak and aging. The main focus at Baiocchi is on Rhone-style varietals and blends.