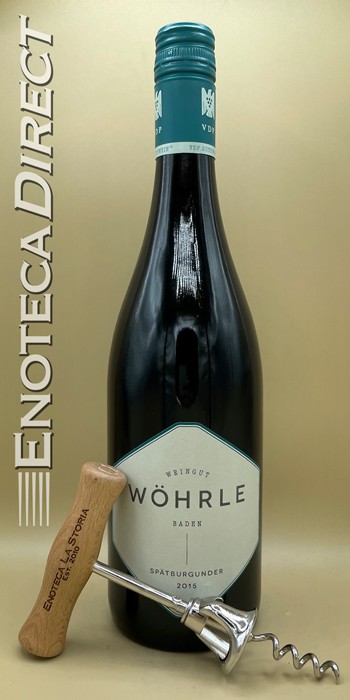 2015 Wöhrle Spätburgunder
Baden, Germany
100% organic Spätburgunder, aka Pinot Noir, from the Baden region of Germany. Organically farmed, hand-harvested, sustainably crafted 100% Pinot Noir from this award-winning producer in Baden. German Pinot Noir is becoming increasingly fashionable at trendy European restaurants, and catching on amongst wine hipsters stateside. Appreciated for its spicy aromatics and food-friendly acidity, the finest examples rival Burgundies at higher price points.
This wine starts off a bit shy, but when given some air it becomes unexpectedly interesting and delicious. Complex aromatics with notes of cedar wood, dark berry fruit and hints of baking spice, with just a hint of herbs and balsamic notes. The palate features dark but tart berry fruit (think lingonberries!) sandalwood, a distinct minerality and just a hint of oak. Juicy acidity completes the package.
The town and vineyards of Lahr are on the edge of the Rhine valley, nestling into the rising slopes of the Black Forest, and on the opposite side of the river to Alsace. Deep loess and loess-loamy fertile soils combine with a warm and protected macroclimate to create a very specific terroir that can produce great wines. The vineyards used to belong to the town, hence the name Stadt Lahr (town of Lahr), but were leased to the Wöhrle family in 1979. The ownership was then taken in 1997 and in 2002 their son Markus became the winemaker, and since then the estate has increased from 5 to 16 hectares (40 acres), ably assisted by his wife Tanja. The estate has been devoted to organic cultivation for 25 years with European certification.
After so many years the vines and soils have become a very intact ecological system, but require far more intensive care and attention than traditional cultivation. With gentle and careful work in the cellars, the special mineral character and style are maintained. Full-bodied, firmly structured wines that are predestined to be fermented dry.