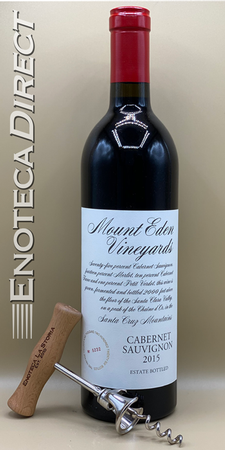 2015 Mount Eden Estate Cabernet Sauvignon
Santa Cruz Mountains, California
These local legends are among our favorite wineries in California, if not the world. Located high in the hills above Saratoga on a incredibly beautiful and historic estate, winemaker Jeffrey Patterson and his family create small lots of Pinot Noir, Chardonnay, and Cabernet Sauvignon that are not only ageworthy and high scoring, but just plain delicious. Their Cabernet Sauvignon is the unsung hero of their lineup, and this 2015 vintage is a rare gem. Patterson said that 2015 had the smallest yields he'd ever seen in 38 years on the mountain property, averaging only half a ton per acre. Still very much in its youth, it's characterized by dark, dense fruit and a delicate hint of bay leaf and mint, wrapped up in structure that lets you know this wine comes from a mountain vineyard. Because of the small crop, the wine saw 100% new oak, half French and half American, which already nicely balances the intesity of flavor and structure and promises a long life ahead. These wines are known to improve for 15-20 years in the cellar. I know I have a few bottles in mine.
~Ryan Smith, Enoteca Direct
From winemaker Jeffrey Patterson: "All of our vineyards are surrounded by wildlands which makes Santa Cruz Mountain wines so intriguing and unique. The wines subtly pick up these special aromas and flavors from this proximity. Essential oils from the native flora blow into the vineyard and in a minuscule way, attach to the fruit and leaves. This only happens in small isolated mountain vineyards. In my 38 years making wine on this mountaintop, I have never seen such a low yielding Cabernet vintage. Averaging at best one-half ton per acre, it was confounding. While there is not much of it, it is certainly delicious—a classic nose of cassis with the added complexity of plum, bay and earthy sage. On the palate, there is concentration without heaviness, flavors of currant, raspberry, oak and earth—which speaks to our surrounding forest."
Our estate vineyards have been growing Cabernet since the late 1940's
13 acres: 9.75 acres Cabernet Sauvignon, 2.9 Merlot, .4 Cabernet Franc, .2 Petit Verdot
Cool coast vineyard, which results in a lower alcohol, yet full flavored wine that ages gracefully
Vineyard planted in 1981-1982
Fermented in small open top tanks, using natural yeast
Macerated 14 days on the skins, punched down by hand
Wine is racked six or seven times during the course of its two year barrel aging
95 points, Decanter Magazine.
"The rocky minerality of the region shows from first sniff through to the lengthy finish. The earthiness is beautifully offset by fleshy red and black fruit, with spice-infused cherry, bittersweet chocolate, espresso and vanilla notes. For all its youthful intensity, the palate is remarkably fresh and bright."

Wine Specs
Varietal
Cabernet Sauvignon
Appellation
Santa Cruz Mountains