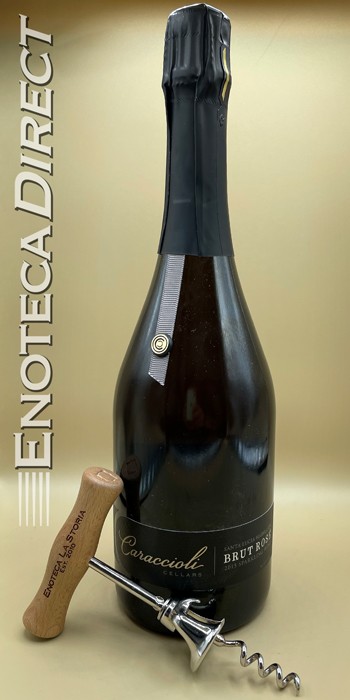 2015 Caraccioli Brut Rosé
Santa Lucia Highlands, California
This might be the best domestic sparkling producer we have come across in a while!
This vintage small batch méthode champenoise sparkling wine is absolutely delicious!
Fine, energetic and pronounced mousee. Aromas of raspberry sorbert, strawberry, watermelon and tangerine zest. Hints of jasmine and honeycomb. Bright and complex acidity on the front palate wrapped in elements of citrust. Bursts of juicy raspberry and stone fruit balanced with subtle, crisp finish.
Winemaking Notes (from the winery): In 2015 our estate Escolle Vineyard Pinot Noir and Chardonnay comprise 100% of the total cuvée. This is the first vintage the sparkling cuvée transitioned to completely estate fruit. All grapes are hand harvested into small totes, disallowing any premature crush prior to press. All sparkling lots are processed in four ton press loads, which is optimal when using the Coquard PAI Gravity Press. We utilize extremely light whole cluster pressing and only take the first 120 gallons/ton.The cuvée begins fermentation in stainless steel tanks with 20% of the winesfinishing the fermentation in neutral French oak barrels. The remaining 80% of the cuvée undergo similar oak aging once the primary fermentation is complete. The total time on oak is approximately two months. The cuvée is racked back to tank and we added 1.5% still red wine that showcases the bright red fruit. The Brut Rosé is left to age sur lies for four years. Riddled and disgorged in house, the wine ages on cork for an additional 12 months prior to release.
For the wine geeks:
Harvest Date: July 27-August 7
pH: 2.98
Total Acidity: 12.0g/L
Alcohol: 12.0%
Barrel Fermentation: 20%


Wine Specs
Appellation
Santa Lucia Highlands