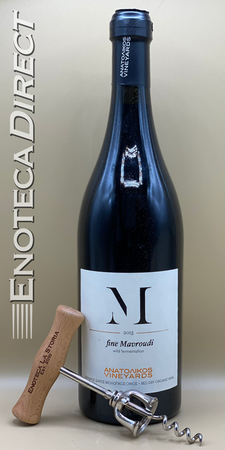 2015 Anatolikos Fine Mavroudi
Thrace, Greece
100% certified sustainable and organic Mavroudi.
Vinification technique: Spontaneous fermentation takes place in 225L open top oak barrels with indigenous yeasts. The lengthy fermentation duration is due to the cool cellar temperatures at the winery. During fermentation, the grape skins are pressed by hand on a daily basis. Once fermentation is complete, it is transferred to another set of mixed age barrels to mature with the lees for 18 months. It is then bottled unfiltered and undergoes no further treatment aside from 2-3 months of bottle age before release. 6000 bottles produced.
Vibrant ruby color with intense and complex aromas of earth, leather, barnyard and gamey notes. As the wine opens, aromas of ripe red and black fruits, cedar, dried plums and figs, pine honey, coffee and cocoa, almonds and spices present themselves. Soft yet developed tannins are present on the palate with balanced acidity, fruit and a complex and lingering finish.