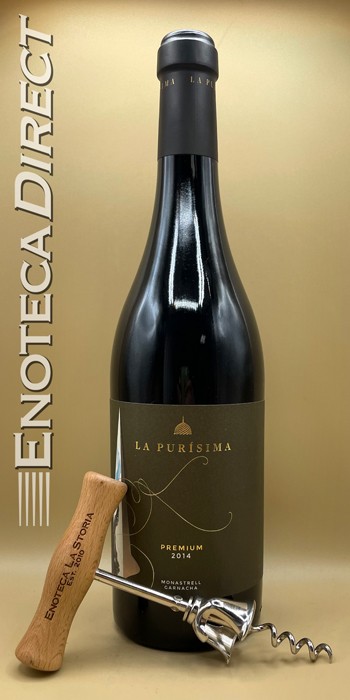 2014 La Purísima 'Premium' Monastrell/Garnacha
Yecla, Spain
The grapes for the "Premium" come from vineyards that are over 40 years old and all grapes are hand harvested. This wine is almost a pure Monastrell at 95% but there is 5% Garnacha for additional richness and smoothness. Maceration is for 15 days for a very rich concentration of flavors and then after fermentation the wine is aged in used oak barrels for 18 months. The strong core of fruit and the structure of the wine results in at least eight to ten years of aging potential.
Primary aromas are of rich dark cherries along with subtle hints of spice and vanilla. The flavor profile is lush, rich, and well integrated and includes ripe plums, dark cherries, and very ripe and juicy blackberries. The initial perception is of a perfectly balanced medium mouthfeel but that then evolves across the palate into a rich and full finish along with perfect balance and acidity.
Although the fresh rich flavors of most of our red wines pair very well with beef and other grilled meats, this is definitely a "steakhouse" wine as there would be a lot of very happy diners if this was the "house red" in every steakhouse across the country! From those comments you then won't be surprised that it pairs very well with Filet Mignon, New York Steak, Rib Eye, Roast Beef, Veal Chops, lamb chops, rack of lamb, and roast/grilled pork but also with game such as duck, elk, and venison. The rich core of fruit creates versatility, however, and other pairings would include salmon, grilled tuna, grilled shrimp, paella, grilled chicken, coq au vin, Mexican food, and Asian Beef and Pork dishes, Indian Tandoori, desserts with chocolate and/or black fruits, and medium, hard, and rich cheeses.