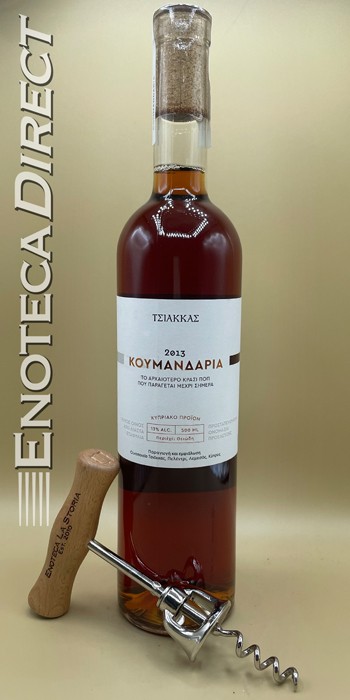 2013 Tsiakkas Commandaria
Cyprus
One of the most special and rare wines in the world- Commandaria is a sweet elixir that is the oldest named wine in the world, dating back to the 12th century crusades!
95% Xynisteri and 5% Mavro dried in the sun for 10 days, vinified without fortification and aged in French and American barrels for five years. Its got intense citrus aromas, sweet bergamot, mature apricot and dried fig aromas and flavors with a nutty, toffee-esque aftertaste. A well balanced wine with a harmony between fruitiniess, acidity and sweetness. Unlike many dessert wines, it's also fairly low alcohol (12.9%).
92 points, The Wine Advocate. "The 2013 Commandaria is almost all Xynisteri (with 1% Mavro), aged in well-used French and American barrels for five years. It comes in with 212 grams per liter of residual sugar (a notable uptick from the last I saw and for the group in general) and at 12.9% alcohol. The name, of course, comes from the Knights of Templar who were in Cyprus in the 13th century. The most recent I've seen in this mini-vertical, this was in good shape on the last look, but it is a bit different in this vertical—it is rather intense, even with far more sugar. The sternest of the group, it is less exuberant, which will suit some just fine. It has a whiff of apricot-in-brandy up front and surprising power on the finish. It does handle the sugar well—in fact, it's hard to believe it is so much more sugary. The balance is certainly different here, though, as the flavors are not as pure and the concentration is different. Its youth may play a role in how it shows today. In its youth, to some extent, this is the outlier in the vertical, but it still shows well and should improve much more. Give it a few years in the cellar for better results. There were 1,500 bottles produced from 60+-year-old ungrafted bush vines at 800 meters in altitude. The price references a 500-milliliter bottle on all of these this issue."